10 November 2023
Robert Johnson Theorie 81: Stefanie Egedy: Low-Frequency Sound and Subwoofers
22:00 Uhr, Robert Johnson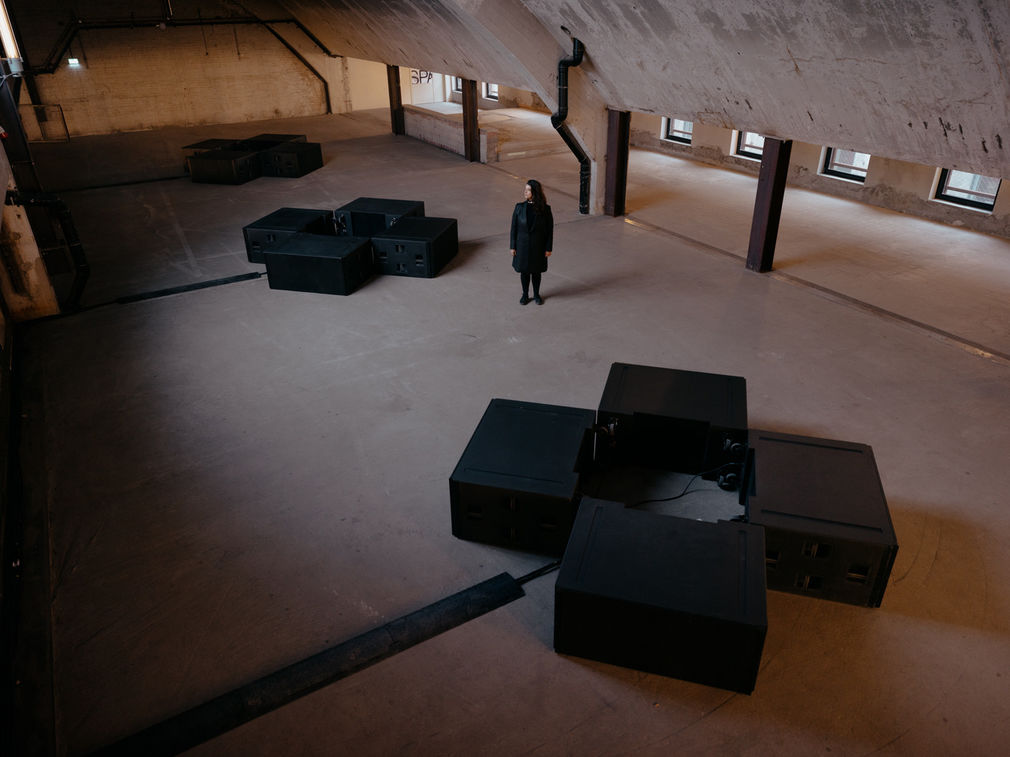 Robert Johnson Theorie kicks off the Winter semester by inviting Stefanie Egedy for a lecture and subsequent concert performance, introducing her research on subjects like sub-bass as a sonic and therapeutic medium:
Low-Frequency Sound and Subwoofers
Low-frequency sound touches bodies and offers vibrational corporal experiences. The sonorous touch embraces bodies and spaces invisible to the eye, yet immediately noted by the body. These long sound waves are capable of filling the air with pressure while caring about the bodies. Touched and hugged by sound waves, our skin feels and our body listens to this unique sound massage enabled by low-frequency sound waves and subwoofers … an invisible touch of sound.
Stefanie Egedy investigates sound as a composer with a focus on low-frequency sound research, encompassing installations to live performances as sonic propositions. Sub-bass, bass, infrasound, subwoofers, and their therapeutical effects along with their capacity to make themselves present in a space, are the foundations of her artistic practice. Egedy articulates the cross-over between sonorous and musical language to investigate sonic communication between beings. Co-running the label COISAS QUE MATAM, she researches light-sound relations with Camille Laurent, and has worked with Chris Salter; whilst a former academic investigation of the political impacts of social and technological acceleration during a bachelor's degree in Public Administration and Philosophy resonates with her artistic practice.
Stefanie Egedy has worked with- and exhibited in places such as CTM Festival, Berghain, KW Institute for Contemporary Art, Tresor, Radialsystem, The Fairest at Trauma Bar in Berlin; Harvard University (USA), The High Line (NYC), Kunstfest (Weimar), Zentrale (Viena), Patchlab Festival (Krakow), Museu de Arte Moderno (Buenos Aires), in São Paulo at MIS – Museu da Imagem e do Som and Mamba Negra party and Festival Novas Frequências (Rio de Janeiro) and is part of the European Commission's Creative Europe-supported SHAPE+ 2022-2023 artist roster.
10. November 2023
Doors 22 Uhr
​Lecture-Performance 22:15 Uhr
Robert Johnson, Nordring 131, Offenbach am Main
Vortragsreihe
1. November 2014 bis 21. August 2023