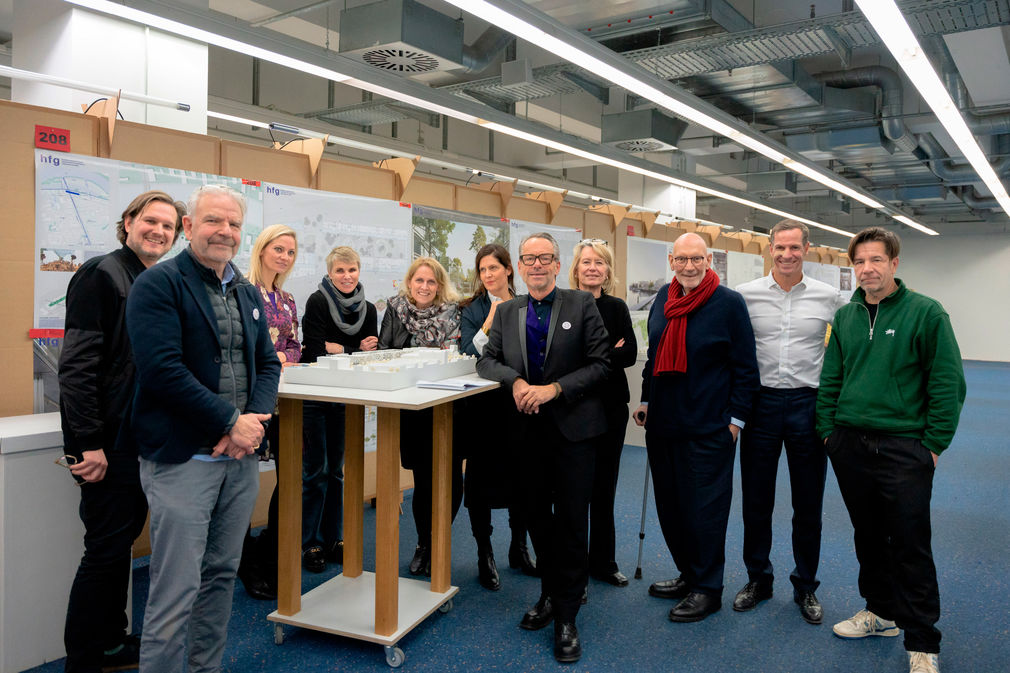 The Advisory Board of HfG Offenbach is made up of ten members, whom the Hessen State Ministry of Higher Education, Research and the Arts (HMWK) appoints for a period of four years. HMWK and HfG each propose five members. These come from business, academia, and the arts. The HMWK assessor is currently Ministerialrätin Caroline Wolff. The committee's brief is to advise the university on its development, to articulate the expectations the professional environment has of the university, and to promote the use of academic findings and artistic achievements.
The Advisory Board is also involved with the concepts for the definition of objectives, development planning, evaluation, efficiency, and transfer; it adopts a position with regard to the Accountability Report, the budget plan, the courses and departmental structuring. Together with the University Senate, the Advisory Board, as part of a selection committee comprising an equal number of members from both bodies, also prepares the election of a President.
Members of Advisory Board
Vorsitzender
Dr. h.c. Udo Corts​
​Vorstand DVAG Deutsche Vermögensberatung, Frankfurt
Stellvertretender Vorsitzender
Prof. Dr. Rudolf Steinberg
Präsident a.D. der Johann Wolfgang Goethe-Universität, Frankfurt
Mitglieder
Dr. Julia Apitzsch
Leitung Kunst/Design, Studienstiftung des deutschen Volkes, Berlin
Max Hollein
Direktor der Schirn Kunsthalle Frankfurt sowie des Städelmuseums und Liebieghauses, Frankfurt
Andrej Kupetz
Hauptgeschäftsführer, Rat für Formgebung, Frankfurt
Sylvia von Metzler
Frankfurt
Dr. Lutz R. Raettig
Deutschlandchef Morgan Stanley Bank AG, Frankfurt
Prof. Hans Ulrich Reck
Professur für Medientheorie und Philosophie, Kunsthochschule für Medien, Köln
Prof. Dr. Ulrich Schneider
Direktor Museum für Angewandte Kunst, Frankfurt
N.N.
Beisitzerin
Caroline Wolff
​Ministerialrätin, HMWK