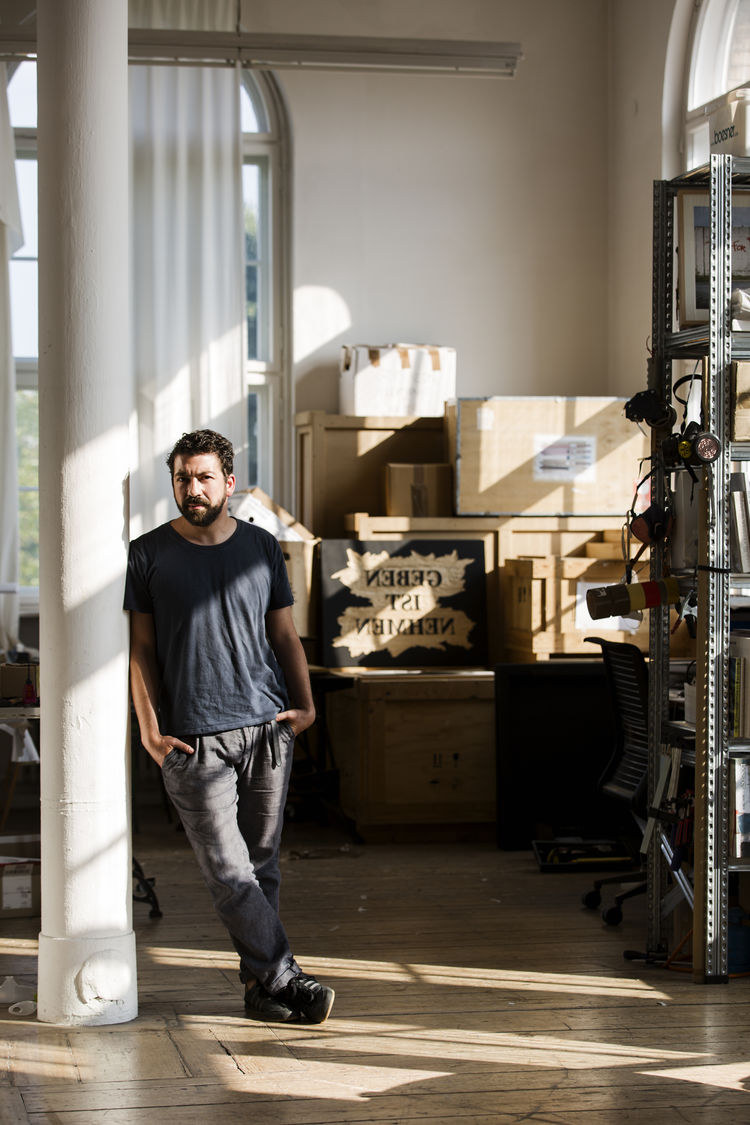 »The actual development of my works takes place outside.« The artist Nasan Tur researches, preferably outside the studio, issues of society, politics and the influence of the media. He works conceptually. Tur partly completes his works himself, partly makes use of assistants. »I am not a factory artist,« he says.
We meet Nasan Tur in his workspace at the Kunstquartier Bethanien in Berlin-Kreuzberg. The building houses artist studios, but also free theatre studios and printing workshops. Tur is currently preparing gallery exhibitions in Belgium, Portugal and Berlin. A solo exhibition at the Kunsthaus Wien is also on display. His spacious and bright studio makes a tidy impression.
Some older works can be seen there, but also ones that have not yet been shown. The most striking work here is Nekerman, a work from 2008, which is exemplary in the way it allows one to gain an insight into Tur's working approach. In the Romanian capital Bucharest, he gathered lighting letters from broken facades. The mail order firm Neckermann, he says, was so popular during the socialist dictatorship times that it flowed into the language. 'Nekerman' was at times a synonym for good, western quality. Tur added that after the revolution, the word disappeared from the Romanian language.
Nasan Tur lives and works in Berlin since 2006. »It was a good decision,« he says. He studied at the HfG Offenbach until 2003. He completed his studies in Experimental Spatial Concepts. Tur gained 'a friendly connection' then with Photography Guest Professor Lewis Baltz, until Baltz's passing. Nasan Tur came to the HfG in 1995, without ever having had any contact with art: »I am an Offenbacher.« He still visits his hometown quite regularly.
The decision to become an artist came much later. His focus was clear: »Making products for the White Cube did not interest me.« Art is not just a museum and a gallery. During his studies, he was able to work freely and independently. »The workshops have also created worlds that I did not know before,« he says. Already during his studies, Tur worked with Jakob Sturm and Felix Ruhöfer at Raumpool - an initiative that provided temporary rooms for exhibitions, theatre and performance projects in Frankfurt and Offenbach.