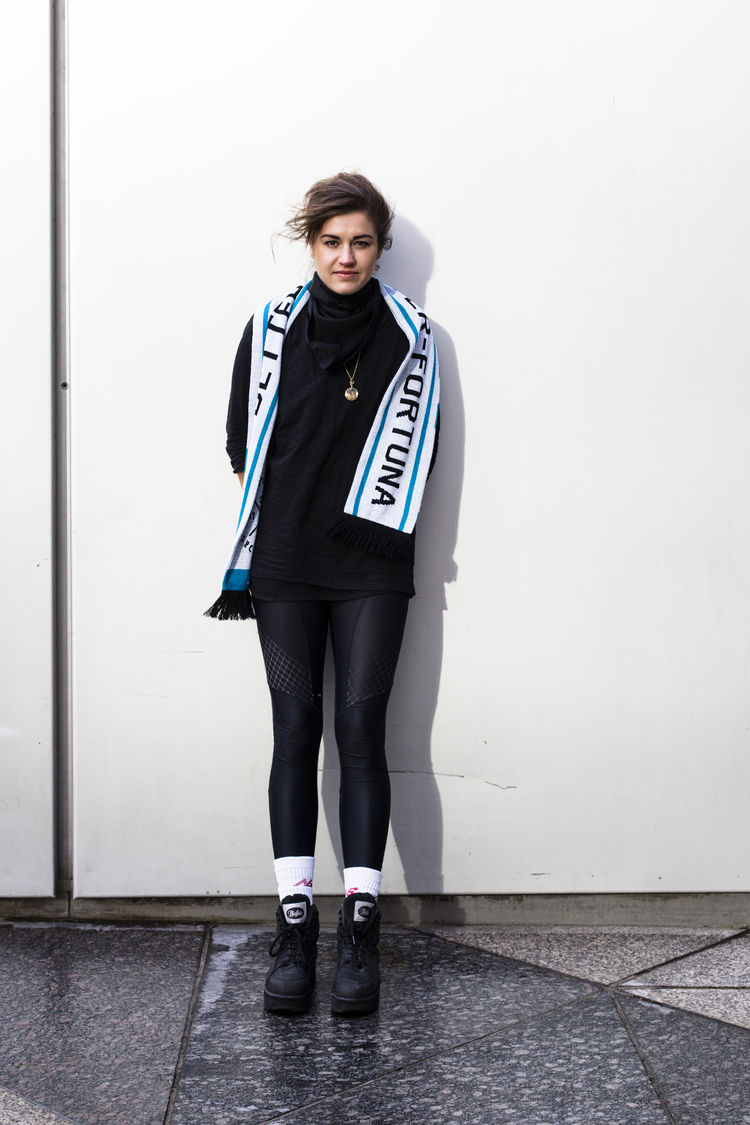 Xenia Lesniewski produces images, texts and videos, works with installations, is co-founder of an edition for experimental book projects, is a member of the Club Fortuna collective as well as part of the artist duo Strand. »I do what I want. I do not want to be restricted or become a brand,« she says. Lesniewski shows her ensembles of painting, installation and video, among others, at individual exhibitions at the Dortmunder Kunstverein, Galerie Oelhoch in Hamburg and the exhibition space Vordere Zollamtstraße in Vienna. Lesniewski presented her video work at the Berlinale, the International Film Festival Rotterdam and several times at the International Short Film Festival in Oberhausen.
Lesniewski is almost always on the road. She currently lives and works in Berlin. Our meeting took place during a stopover in the Frankfurt train station quarter, or Bahnhofsviertel as it is known.
Xenia Lesniewski participated in the Shiryaevo Biennale in Russia in the summer of 2016 with the Club Fortuna collective of artists, founded in 2012. The four artists spent several weeks in the village on the Volga River, where they worked. Club Fortuna have already held their »episodes« in the Vienna Secession and for the opening of the Austrian pavilion at the Venice Biennial in 2015. In October 2016, the collective adorned the cover of the culture magazine of the Austrian daily newspaper Die Presse.
Together with Julia Rublow as STRAND, Lesniewski released the second of six conceptually designed EPs entitled Baccala in December 2016. Previously, in the summer of that year, she organised a reception with Rublow at the Austrian Cultural Forum in Moscow.
She also founded the Edition Furor in 2012, together with Rublow. Currently, a skin adhesive tattoo album with about 90 different artist contributions is set to appear.
»Looking back, I am glad I was able to start there,« Lesniewski says of her studies at the HfG Offenbach, which she began in 2005. She took advantage of the open study structure of the art department (formerly Visual Communication) quite early and was active in the department Experimental Space Concepts as well as in the fields of painting, sculpture and drawing. Her Diplom in 2013 was supervised by the professors for painting and the professor of philosophy and aesthetics. In 2010, Lesniewski studied painting and experimental animation film in Vienna. »The HfG is an ideal opportunity,« she says. The interdisciplinary studies at HfG Offenbach have shaped her strongly: »It functioned in exactly the same way as how I am working now.«