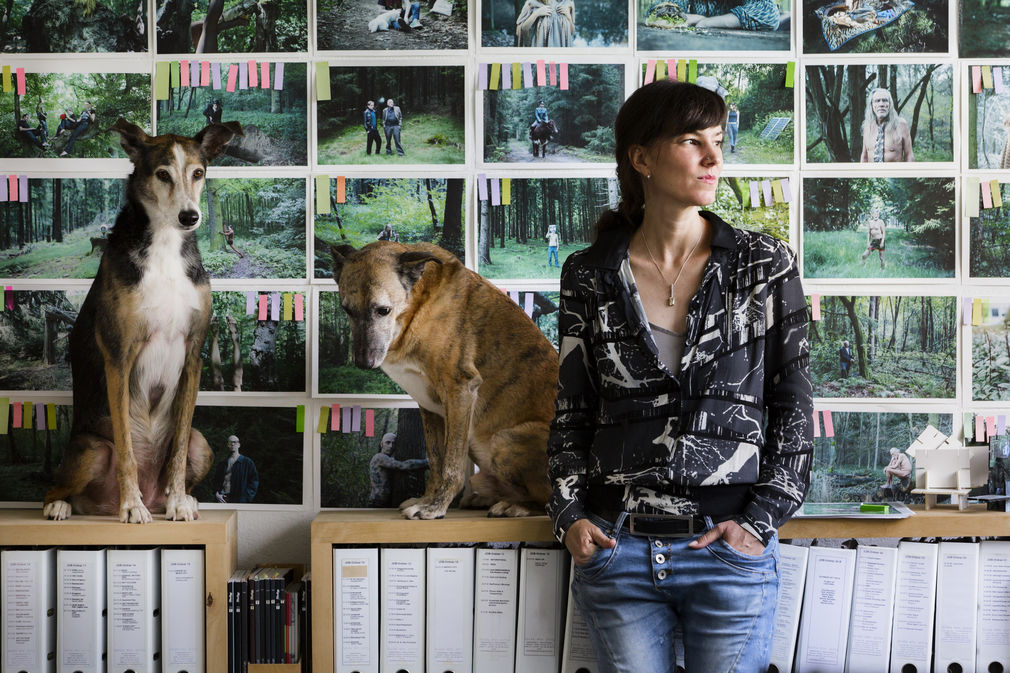 As a budding photographer, Sandra Mann found it difficult to see herself as an artist. This changed in 2001 when Mann, still a student at the HfG Offenbach, exhibited at the Frankfurt Museum of Modern Art (MMK). In a collection exhibition, she presented the installation Expedit, a wall-mounted Ikea shelf, filled with vinyl records from different times, genres and countries, all of which contain the word »love« in the title. The installation forms part of the MMK collection. Sandra Mann is also represented in the Art Collection Deutsche Börse Photography Foundation. Today she defines herself as an artist with a focus on photography.
Currently, Sandra Mann is working on a series of partly staged portraits of people in nature. »The forest becomes the stage,« she explains. It is the relationships and fluid transitions of people with their surroundings, nature and animal world, which he wants to explore. But it is also about misleading the viewers' expectations, »in relation to photography, as a medium closest to reality.« Not everything is always as it seems in the photographs.
Some works from this series were on view in the spring of 2016, in the exhibition Doppelgänger in the Californian Torrance Art Museum. Sandra Mann conceived and curated the show, in which contemporary artistic positions from Germany were presented along with work by American colleagues. She showed her photographs in the form of a modular, sculptural staging, instead of only hanging them on the walls. »I don't only work two-dimensionally, but also in relation to space,« she emphasises. A book is now being created from the Wald series. Sandra Mann had already published books for previous projects. From her HfG Diplom in 2003, a compilation of photographs from nightlife and music scenes titled NIGHT LIFE came about. The book DAYLIFE was published in 2008 at a solo exhibition in Istanbul.
Before her graduation, Sandra Mann was playing with the idea of going into advertising. She came to the HfG Offenbach because one could study both fine arts and applied graphics. From painting she developed towards photography after completing her pre-Diplom. She realised her Diplom project finally in the subject area of Experimental Spatial Concepts. The open structure of the university suited Mann: »I am very curious and inquisitive, which is probably why there are so many pillars.« She advises students today and in the future to make many contacts during their studies and to exhibit as much as possible.