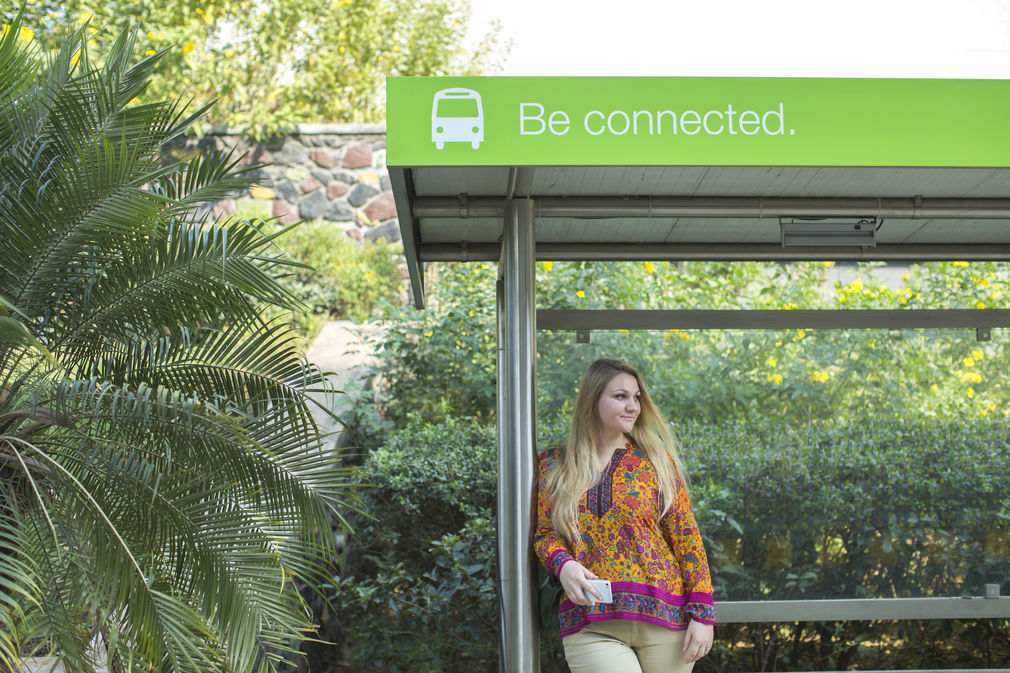 »You must be able to take the plunge,« says Janina Anjuli Schmidt. She works at Reliance Jio Infocomm Ltd. in Mumbay (India), one of the world's largest start-ups. Here the HfG graduate was responsible for hardware design: she designed packaging for routers and developed a mailbox for cheques that are still common in India. She also designed a SIM card for the company, which now has around 100 million customers. The goal of Jio is to supply the entire India cheaply with the 4G mobile network and an ecosystem of apps, Schmidt explains. Further, she supervised the design and content of the Quickstart Guides products, and she also developed guidelines, which allow her colleagues to implement such brief instructions. In the meantime, she takes care of the brand strategy division. This is how she got to work on a brand book, which indicates how the still young brand should to look.
Janina Schmidt went straight to India after graduating from the HfG Offenbach in 2014. »It's very different here,« she says. Her Professor of Technical Products and Product Systems, who also supervised her Diplom, mediated the contact to Jio. In cooperation with the design agency LUNAR Europe, Schmidt developed a fitness device, which combines a physical object with an app. Their goal was to bring a product to life through sensor technology. She completed an internship during her studies at LUNAR Europe as well as at the design department of the kitchen appliance manufacturer Gaggenau. A foreign semester took her to Edinburgh.
Schmidt began her studies at the HfG Offenbach in 2008. She had received an offer from Darmstadt University of Applied Sciences too, but consciously chose the HfG: »I wanted to be free in how I structured my studies.« The high priority given towards theory on offer also encouraged her decision. Schmidt designed many interactive products during her studies. The university taught her how »to deal with any problem« well. Students are being trained very broadly at the HfG, she says. Janina Schmidt would like to pass her knowledge and skills on to her young Indian design colleagues.