HLZ – Achim Heine, Michael Lenz & Peter Zizka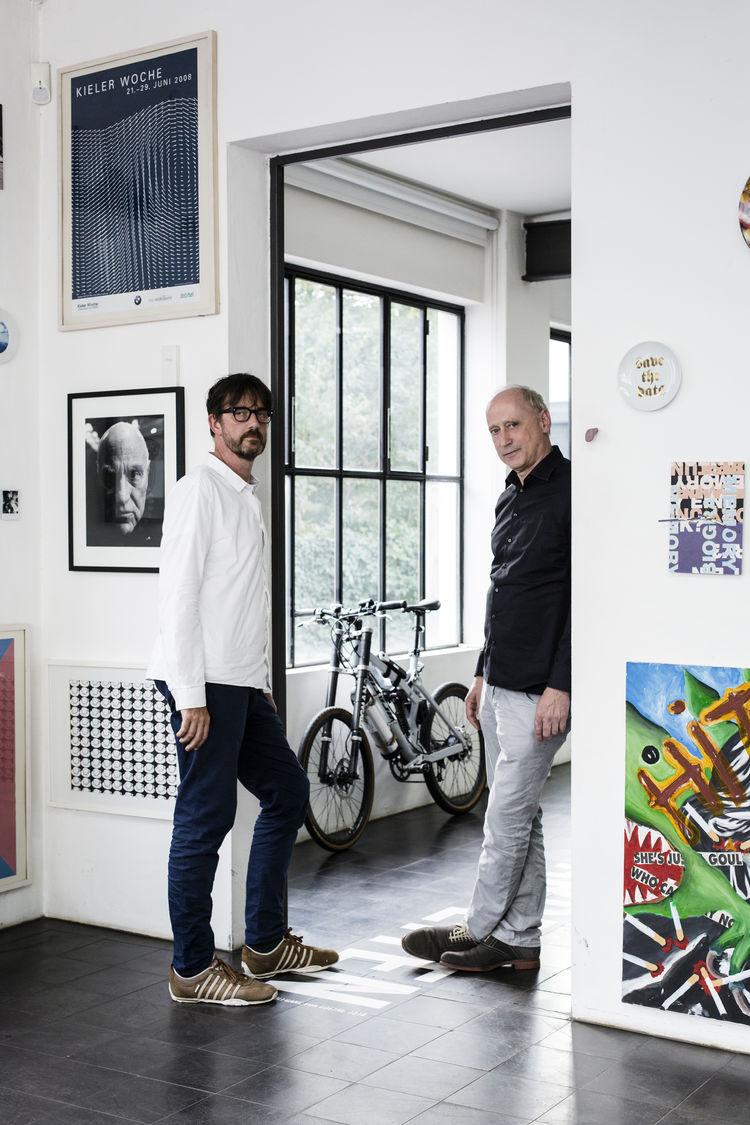 Michael Lenz and Peter Zizka met at the HfG Offenbach in the early 1980s - in a sociology seminar on Peter Weiss' Aesthetics of Resistance. Together with Achim Heine, who also studied at the HfG, they founded Heine / Lenz / Zizka in 1989. The studio designs and creates visual identities for cultural institutions and medium-sized firms. It has an office in Frankfurt and, since 1992, also in Berlin.
The Frankfurt office of Heine / Lenz / Zizka has been housed in a former car repair shop in the Bockenheim district since 2004, the. The spacious rooms have a workshop atmosphere. »That's what we need,« the owners say. Recently, the agency designed a new visual identity for the Hamburger Kunsthalle. In addition, it developed a campaign with the announcement »still open«, so as to ensure the visibility of the Kunsthalle is maintained throughout the almost two-year renovation period. Institutions in the process of change are often the subject of their work.
»We have learnt how to deal with museums and cultural institutions,« says Lenz. »One of the reasons lies in our discursive structure,« Zizka says. The three founders are aware of their different temperaments. In the meantime, they have become more conceptual, supervising the design processes. 'Our main focus is in finding or conveying an idea that drives a process. The fact that we can be of different opinions and yet find a consensus is part of our internal culture«. Zizka sees the understanding of production processes as a further competence of the agency, for example Heine teaches product design at the Berlin University of the Arts. For Leica, a tradition-orientated company that has been a customer for more than ten years, they designed not only communication, but also cameras and binoculars.
At the HfG Offenbach, Peter Zizka studied painting as well as applied design. People from different areas could mingle at the department (formerly Visual Communication). This »crude mixture« is typical for the HfG, says Lenz. Zizka sees a great distinction here from art academies: »Topics are more important than persons at the HfG.« One learnt to work as a group at the university and not to think in the singular.
Zizka, who curated an exhibition of the graphic designer Stefan Sagmeister at the Museum Angewandte Kunst Frankfurt in 2016, emphasised: »Sagmeister shows us that design can be more than a willing service«. This is because a designer today should be neither artistic genius nor opportunist.