hauser lacour – Stefan Hauser & Laurent Lacour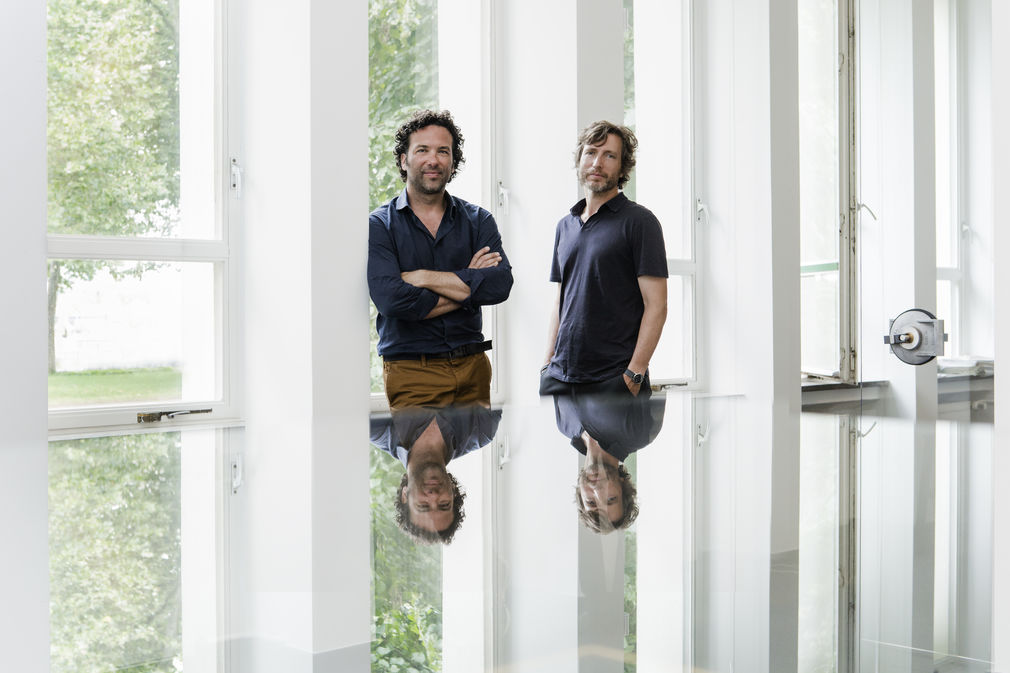 »It was a great melting pot of people,« remembers Laurent Lacour, managing partner of the Frankfurt design agency hauser lacour, of his studies at the HfG Offenbach. Already on the first student day, in the early 1990s, he met Stefan Hauser, now also managing partner of the agency. Both are still friends. The spectrum of hauser lacour ranges from brand development, corporate design and interactive design, to brand appearances at trade fairs. The agency, which now has 25 employees, moved to a protected post-war house at the Senckenberg site in Frankfurt three years ago.
In the first years of its existence, the agency established in 1999/2000 as Ade Hauser Lacour by Gregor Ade, Stefan Hauser and Laurent Lacour, often worked for art and cultural institutions. »Because we studied at the HfG, we had a great affinity with them,« says Lacour. The Frankfurter Kunstverein, the Museum of Modern Art (MMK), the Kunsthalle zu Kiel and the Cologne Philharmonic are just a few clients from this time: »The cultural institutions have shaped us and made us known.« That was five years ago, then came the turnaround. »We felt like doing more as entrepreneurs,'« says Lacour, while Hauser adds: »We wanted our business to grow.« hauser lacour then became a classic branding agency. The agency was twice responsible for the corporate design of Deutsche Börse Group in 2007 and 2011. Industrial customers, such as Siemens, came from 2008 onwards.
During their studies, Hauser and Lacour focused on graphic design, conceptual design and typography. They were, however, open to exchanges with people from other areas. »Art students like Marcus Sendlinger inspired us very much,« recalls Lacour. The two-part artistic study subject in the area Experimental Spatial Concepts is called 'Kick'. The social environment was of a high profile. The graphic designer Markus Weisbeck also studied at the HfG as well as Achim Reichert and Marco Fiedler, now known as Vier5. Florian Schmitt became successful in London with the agency Hi-Res. Laurent Lacour said that the fact that the founding partners Ade, Hauser and Lacour came together also had to do with their origin. »We all come from Swabia, so we have a very particular mentality.«