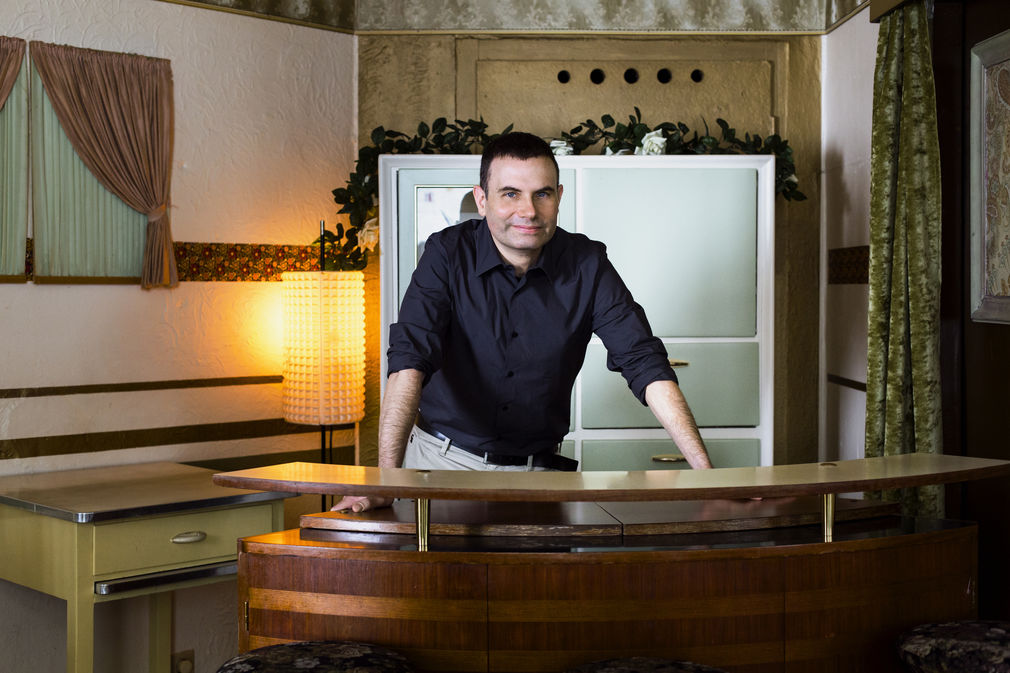 Historical settings, sumptuous costumes and a high-calibre cast: Sketch History is one of the most elaborate comedy series ever produced in Germany. The actor, director and author Carsten Strauch belongs to the permanent ensemble of the sketch comedy that focuses on the topic of world history. The series has run since October 2015, once a month on Friday nights on ZDF. »It's a great pool of people I work with,« says Strauch at the meeting in Berlin-Prenzlauer Berg. His ensemble colleagues come from programmes such as Ladykracher, Pastewka and Heute-Show. In the ARD comedy series Die Kuhflüsterin, in which Carsten Strauch plays the photographer Hannes Krieger, he stars alongside Cordula Stratmann.
In addition, the HfG graduate is working on his own film projects. In the award-winning comedies series Götter wie wir - awarded the Deutschen Fernsehpreis (German Television Award) and the Hessischen Fernsehpreis 2013 (Hessian Television Award) - he wrote and directed the screenplay with Nina Werth and Rainer Ewerrien. Strauch was also co-producer as well as actor in one of the two main roles and five further roles. The series tells the story of Inge and Renate, the divine twosome, and of the quirks of their blissful everyday lives.
It was not only in this project that Strauch had access to his network from his student days. Strauch is co-producer of the feature film Jonathan, which appeared in the cinema in October 2016. Previously, the film was shown at festivals in San Francisco, Los Angeles, London, Chicago and Singapore, among others. Directed by Piotr J. Lewandowski, with whom the Strauch co-operated in Götter wie wir. Lewandowski was assistant director for Strauch's Diplom film in 2001. »We will continue to work together«, says Strauch.
Carsten Strauch purposely chose to study at the HfG Offenbach. He was accepted to study at several universities. Strauch was not sure whether he wanted to study graphic design or film - the HfG left both possibilities open for him. Ultimately, he chose film. Initially he devoted himself to animation film. Later he played in the films of his fellow students and, since his Diplom film, in his own productions. His films were humorous, already during his studies. Is there something exceptional about Offenbach film studies? »It is this creative spark to think differently and find unusual solutions,« Carsten Strauch answers. »We had to improvise a lot at the HfG. That way one is not so set in one's ways.«