T +49 (0)69.800 59-168
F +49 (0)69.800 59-151
Main building, room 201a/b
Consultation
by appointment
Discipline
Subject/Area
Design/Product Design
Theory/Science
Faculty
Function
Vice President
Extern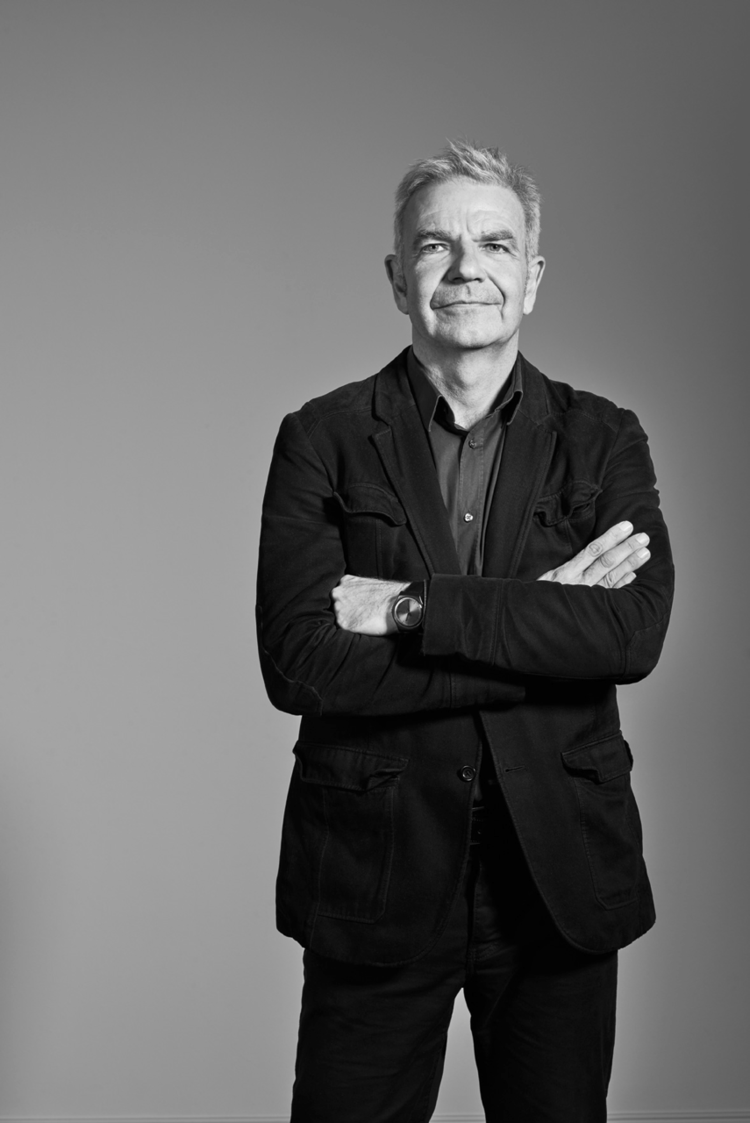 Peter Eckart (born 1961) is a designer. He studied product design at the Bergische Universität GHS Wuppertal and later at the Hochschule für bildende Künste (HFBK) Hamburg with Prof. Peter Raacke and Prof. Dieter Rams. After winning the Braun Prize (1989), he worked as a product designer at Braun in Kronberg. In 1993 he founded the design office Eckart+Barski Design with Olaf Barski. Products in the field of consumer goods and medical technology were created. In 2000, together with Bernd Hilpert, he founded the design office unit-design in Frankfurt and Bern, which is networked with related disciplines for media, design and architecture, and works on projects in the field of guidance and orientation systems, information design, public and mobility design; among others for: Accenture, ECB, Historisches Museum Frankfurt, Messe Basel, Messe Frankfurt, Museum für Kommunikation Frankfurt, Stadt Offenbach, Regionalpark Rhein Main, Stadt Frankfurt, Fraport, Lufthansa, Deutsche Bahn, T-Mobile, Roche, Siemens, VGF, KVV Karlsruhe... The projects have received numerous national and international awards. Most recently with the German Design Award in Gold.
After teaching assignments at Darmstadt University of Applied Sciences, Peter Eckart has been Professor of Product Design and Integrative Design at the HfG Offenbach since 2000, and from 2007 to 2010 he was Dean of the Design Department.
Peter Eckart was scientific coordinator of the LOEWE research focus "Infrastructure - Design - Society" at the HfG, the first focus in the state offensive for the development of scientific and economic excellence under the leadership of a university of the arts. The Offenbach Institute for Mobility Design (OIMD), which Peter Eckart heads together with Prof. Dr. Kai Vöckler, emerged from the research project.
Anthologies
Kai Vöckler, Peter Eckart, Martin Knöll, Martin Lanzendorf (eds.): »Mobility Design. Shaping Future Mobility«. Offenbach Publication Series on Mobility Design. Volume 2: Research. Berlin: Jovis 2023. (Download)
Peter Eckart, Kai Vöckler (eds.): »Mobility Design. Shaping Future Mobility«. Offenbach Publication Series on Mobility Design. Volume 1: Practice. Berlin: Jovis 2022. (Download)
News
4 years ago
The future lies in new forms of mobility: Instead of owning a car it will be easy to use a host of different forms of transport. Mobility will become a service and will tend to be perceived not as an object and more as an intangible event. In future, digital and platform-based...
4 years ago
Meanwhile in India
Prof. Peter Eckart and Julian Schwarze, research assistant at the HfG, were guests at the India Institute of Technology (IIT) Roorkee with a workshop on Mobility Design.
9 years ago
Excursion to Rio de Janeiro -- Merry Samba
16 December, 2014 / 7 p.m. / Linke Kapelle LixoLuxo invites you to a Brazilian Christmas with Bossa Nova, caipirinha, Salgados and pictures from the trip to Rio de Janeiro. In collaboration with Angela Carvalho the participants of the LixoLuxo project from the summer...
9 years ago
25 years of Deutscher Designer Club e.V.
To mark the 25th anniversary of the German Designer Club (DDC) on 13 November two new volumes of the series iDDC Design Library were presented in the Museum Angewandte Kunst in Frankfurt/Main. The works also includes a text by Prof. Peter Eckart
9 years ago
German Mobility Congress
On 12 November, 2014, Prof. Peter Eckart is giving a talk at the German Mobiity Congress.