Prof. Dr. Juliane Rebentisch
T +49 (0)69.800 59-233
F +49 (0)69.800 59-202
Main building, room 302a
Consultation
Thursday 10 to 12 am
Discipline
Subject/Area
Theory/Science
Faculty
Extern
Sprechstunde
Donnerstag von 10 bis 12 Uhr​​
​
Termine bitte mit Eva Novak vereinbaren:
Prof. Juliane Rebentisch studied Philosophy and German Studies at Freie Universität Berlin, obtaining her doctorate at the University of Potsdam in 2002 and completing her postdoctoral studies at The Goethe University in Frankfurt/Main in 2010 (»venia legendi« for the discipline of philosophy). Focus areas: aesthetics, ethics, political philosophy. From 2015-2018 she was President of Deutsche Gesellschaft für Ästhetik. Since October 2011 she has been Professor of Philosophy and Aesthetics at HfG Offenbach, whrere she currently also serves as Vice President. She is a member of the Research Counsil of the Institute for Social Research Frankfurt.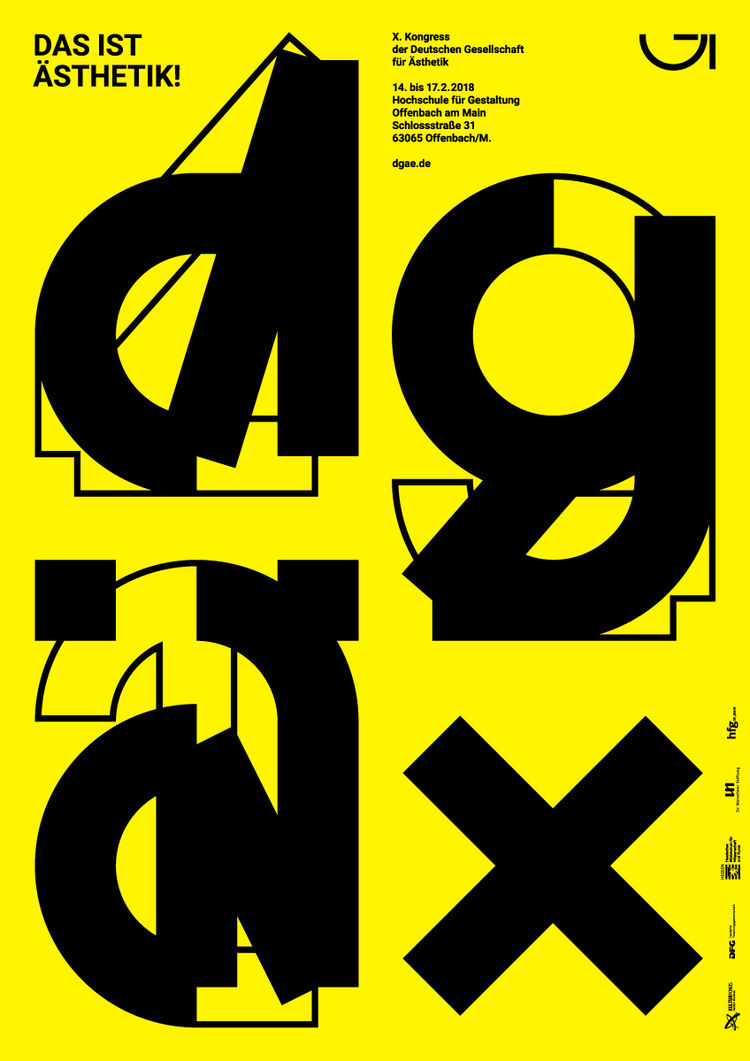 DAS IST ÄSTHETIK!
X. Kongress der Deutschen Gesellschaft für Ästhetik
14. bis 17. Februar 2018 ​
dgae.de​
​
Hochschule für Gestaltung
Offenbach am Main
Schlossstraße 31
63065 Offenbach/M.​
​
Katalog hier
​
Download
Frankfurter Positionen 2017
Vortragsreihe des Instituts für Sozialforschung zu den Frankfurter Positionen 2017
26. Oktober 2016 bis 11. Januar 2017
2. Februar 2017
Konzeption, Organisation, Moderation
Institut für Sozialforschung (IfS) Frankfurt am Main:
Sidonia Blättler, Dirk Braunstein, Axel Honneth, Juliane Rebentisch
Teilprojekt im Rahmen des von der Volkswagenstiftung finanzierten und am Frankfurter Institut für Sozialforschung durchgeführten Verbundprojekts »Verhandlungsformen normativer Paradoxien«.
Frankfurter Positionen 2015
October 15, 2014  to January 14, 2015
January 22 to February 1, 2015
Concept, organization and moderation
Institut für Sozialforschung (IfS), Frankfurt am Main: Sidonia Blättler, Axel Honneth, Sighard Neckel, Juliane Rebentisch
Galerie Buchholz Berlin
28. August bis 31. Oktober 2014
Kuratiert von Daniel Buchholz, Diedrich Diederichsen, Christopher Müller, Juliane Rebentisch und Marc Siegel
Arsenal Institut für Film und Videokunst Berlin
29. bis 30. August 2014
​Organisiert von Diedrich Diederichsen, Juliane Rebentisch, Marc Siegel
Theoriekantine
Juliane Rebentisch is a founding member of the Theoriekantine (together with Maria Muhle, Ludger Schwarte, and Dirk Setton). The Theoriekantine is an open debate format that takes place at irregular intervals at the »Vierte Welt« in Berlin's Kreuzberg district.
News
3 years ago
Deutsche Gesellschaft für Ästhetik
For the next three years Offenbach University of Art and Design will be the seat of the Deutsche Gesellschaft für Ästhetik.
3 years ago
Podiumsdiskussion
Juliane Rebentisch, Professorin für Philosophie und Ästhetik an der HfG Offenbach, nimmt am 28. November 2014 an der Podiumsdiskussion »Ethik des Sehens« in den Münchner Kammerspielen teil.
3 years ago
Borders of Orders
On 28 and 29.November, 2014 the young artist conference "Borders of Orders - Drawing Borders, Conflicts and Social Orders", organized by the excellence cluster "Normative Orders" takes place at Goethe University in cooperation with HfG Offenbach. On Ssturday afternoon and...
Calendar
22 November 2014 until 10 September 2016
10 September 2016 Saturday
15 January 2015 Thursday
22 November 2014 Saturday