6 May 2019
The Triangle: Talks on Art and Politics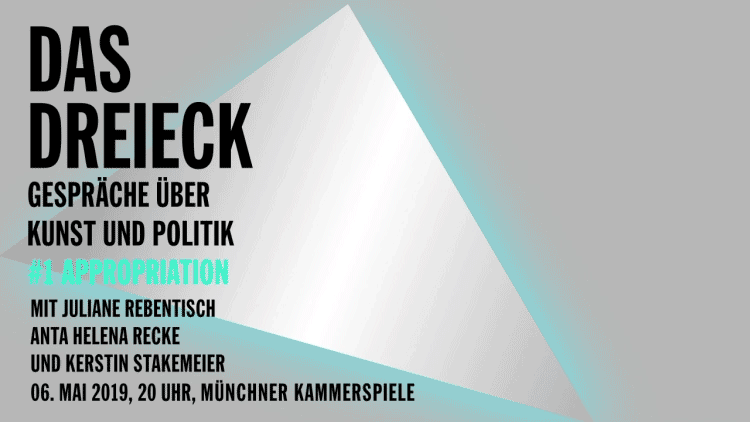 #1 Appropriation
New series, new format: In a triangle with two further guests each, the philosopher Juliane Rebentisch, Professor of Philosophy and Aesthetics at the HfG Offenbach, discusses topics in the field of tension between art and politics.
The first episode is devoted to forms of artistic appropriation. No culture is conceivable without practices of the sometimes more, sometimes less creative adoption of given. But when is such appropriation simply necessary, when emancipative and when violent? While the discussion in the 1980s was marked by the accentuation of the emancipative moment of artistic appropriation, today the phenomenon is increasingly addressed in its violent aspects. The positive descriptions - theft as empowerment, montage as enlightenment, appropriation as criticism of myths of originality - are now countered by weighty negative descriptions: Theft occurs as expropriation, montage as disposal, appropriation as confirmation of existing power relations. The debate about the two sides of appropriation leads to the heart of the ethical-political dimension of artistic practice.
The theatre director Anta Helena Recke and the art historian Kerstin Stakemeier will discuss this with Juliane Rebentisch.
6 May 2019, 8 pm​
​
Münchner Kammerspiele
Kammer 3
Maximilianstraße 26
80539 München​
Tickets
9 Euro / reduced 5 Euro
Vortragsreihe
28 June 2019 until 16 January 2020