8 November until 28 November 2019
XIA-ANTIZYKLON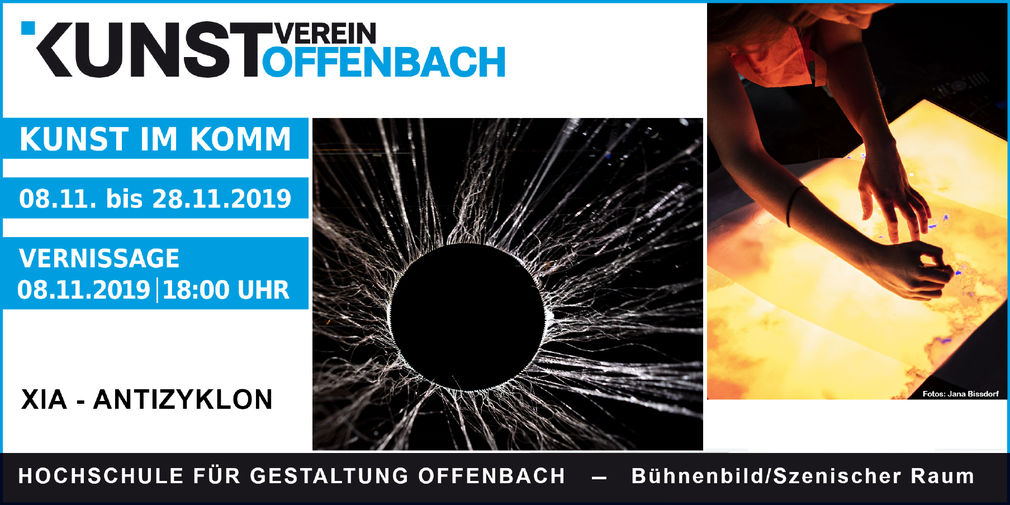 The weather is always a reason for daily discussions. Whether in scientific debates, climate conferences or in private analyses of the neighbourhood - from banal to socially highly political, the range is rich. How have the recordings or the aesthetics of the images changed over time? How do we react as a society to weather crises, climate change and global paralysis? Students of the Offenbach College of Design (HfG) are exploring these questions in a further development of their term paper "Wetterwerkstatt" (Weather Workshop). The initial research led to the Frankfurt Opera, where traditional instruments from the baroque theatre and machines for weather simulations were explored, but also to the German Weather Service in Offenbach with its worldwide weather and climate archive. The work was supervised by Jonathan Bepler, Prof. Heike Schuppelius and Nina Zoller (Stage Design/Scenic Room).
In the exhibited experimental building samples with image, object and sound, the young artists work as an interface between science, everyday life and artistic strategy, trying to extract the essence of the weather nuances. Weather becomes different - data collection can be experienced in an unusual way. Accompanying the thematic work, the artists' group has also adopted a weather sponsorship for a high pressure area. It is expected to arrive via Germany at the end of November 2019. The baptism of the printing area will take place under the name XIA by meteorologists from the performativ Dienst im Kunstverein Offenbach. After that it will appear on the weather map and will influence our weather in the following days.
Opening
8 November 2019, 6 pm
Opening hours
Mon–Sat 2–8 pm
​
Kunstverein Offenbach e.V.
Aliceplatz 11, KOMM-Center, 1. Stock
Offenbach