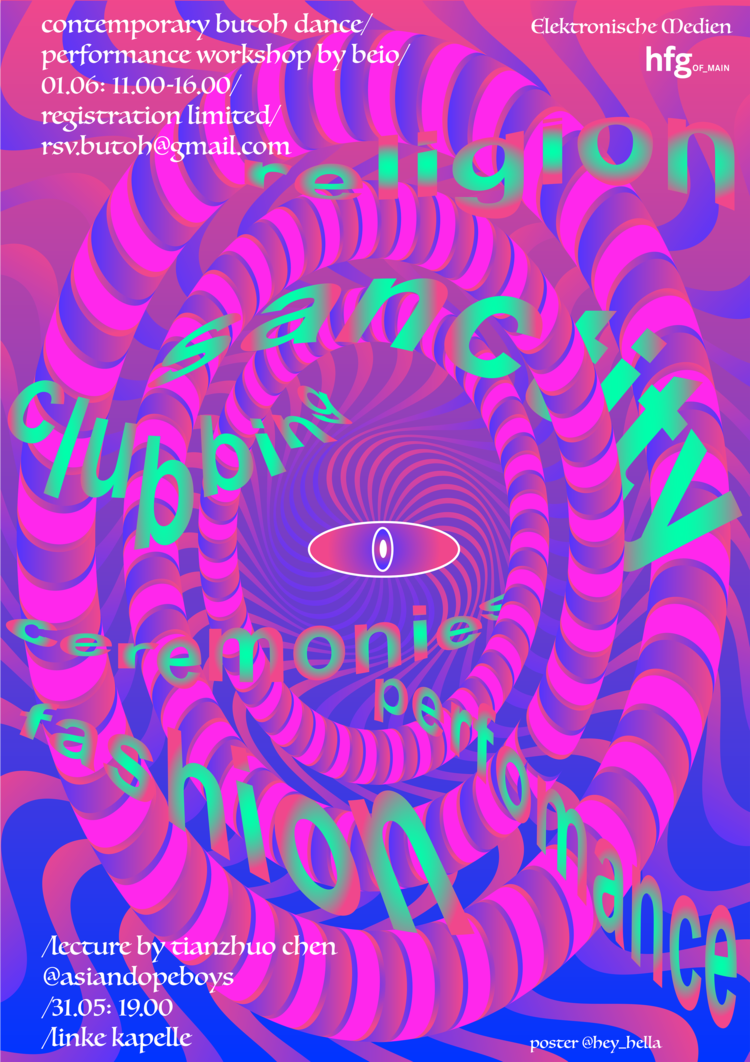 RELIGION, SANCTITY, CLUBBING, CEREMONIES, PERFORMANCE, FASHION, POLITICS.
Talk and a performance workshop by Tianzhuo Chen and Beio
One of the most promising, and certainly the cheekiest, young Chinese artist Tianzhuo Chen and his collaborator, artist and performer Beio, during their European tour make a stop in HFG to tell us about their extraordinary process and give a workshop on contemporary Butoh dance - an interpretation of traditional Japanese dance of darkness.

Kitsch, religion, grotesk, spirituality, fashion, politics, lgbtq, consumerism, celebrities, worship hedonism and sexual norms in the context of China's rapid industrialisation and globalisation. Tianzhuo together with his bright circle of collaborators like Nepalese-Tibetan musician Aïsha Devi, Parisian performance group House of Drama, and his Beijing-based label @asiandopeboys use religious symbols and dance styles such as Butoh or Voguing, and combine them with subcultural codes from the drag, club and pop culture. Tianzhuo examines and questions history and religion to grasp our human existence and spiritual exploitation in the modern world. It is a ceremony of sub- and high culture that Tianzhuo Chen brings on stage with a variety of artistic complications.

The transcendent approach of the artist, born in Beijing in 1985 and trained at the London Central Saint Martins College, is not only evident in his work, which includes installation, performance, video, drawing and photography, but also at the locations of his performances: Berliner Berghain, as well as the London and Shanghai Fashion Week, K11 or the Paris Palais de Tokyo, where Tianzhuo in 2015 had a solo exhibition.
Organised and supported by students of Electronic Media and Prof Alex Oppermann.