5 November bis 6. November 2019
Rituals & Routines: Workshop + Talks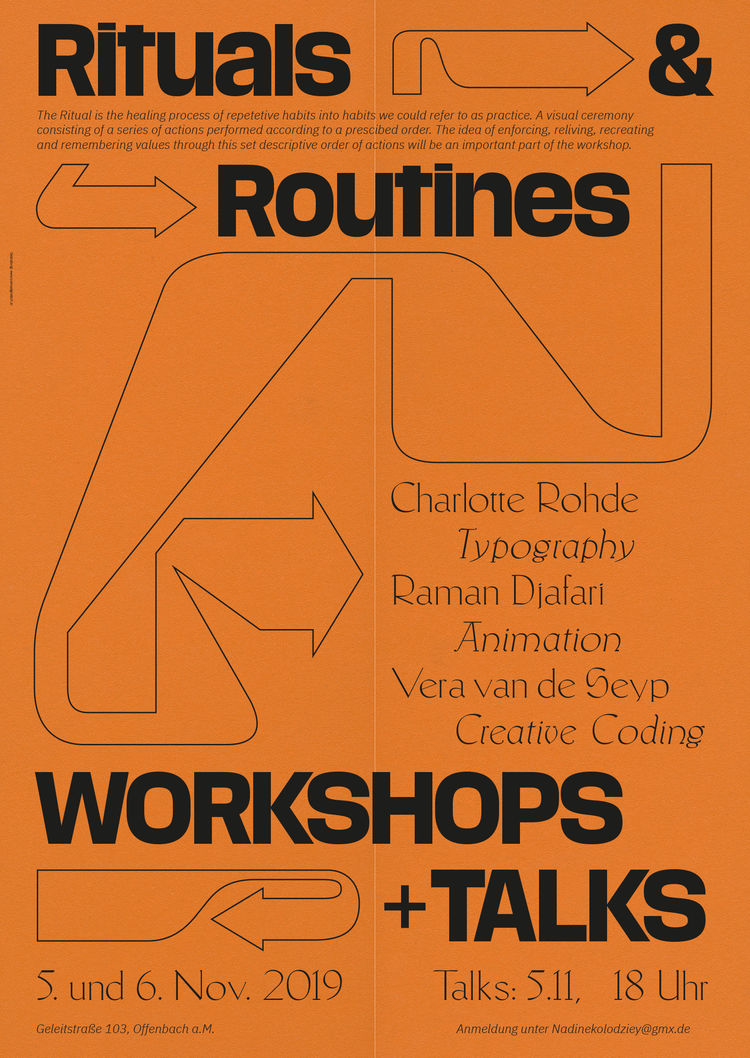 The ritual is the healing process of repetitive habbits into habits we could refer to aspractice. A visual ceremony consisting of a series of actions performed according to a prescribed order.The idea of enforcing, reliving, recreating and remembering values through this set descriptive order of actions will be an important part of the workshop.

Workshop Raman Djafari

The Animated Loop: A ritual performed in cycles

The animated loop, going through it's motions in endless cycles, through the repetition of movement, will become our ritual. Our practice will be in the medium of frame by frame animation as a form of meditative contemplation. This workshop will be an exploration of a thought process circling around an initial idea, following the steady pace of the lines that we draw.

Workshop Charlotte Rohde

Type_Workshop Outline

What Rituals do we need today and how do we want to communicate them? Is it a sect, is it a cult, is it a private happening? Do we need tools, objects, speech?

Let's speculate on'Howdo we want to heal?' and propose it to the public since rituals are a form of communal gathering. A poster as the classic medium of propaganda will be the vessel of our new conceptual cults.

Workshop Vera van de Seyp

Continuous code workshop outline

During this workshop we will work with for loops in p5js to create moving posters. Using the meditative aspects of visual repetition and distortion, we will create graphic compositions around the theme rituals and program posters that can interact with and reflect on their environment.
Workshops

5. + 6. November 2019

Talks

5. November 2019, 18–19.30 (open for all)

Anmeldung Workshops
Geleitsstrasse 103 (Eike König)