26 Oktober 2016
Lecture & Workshop by Vaginal Davis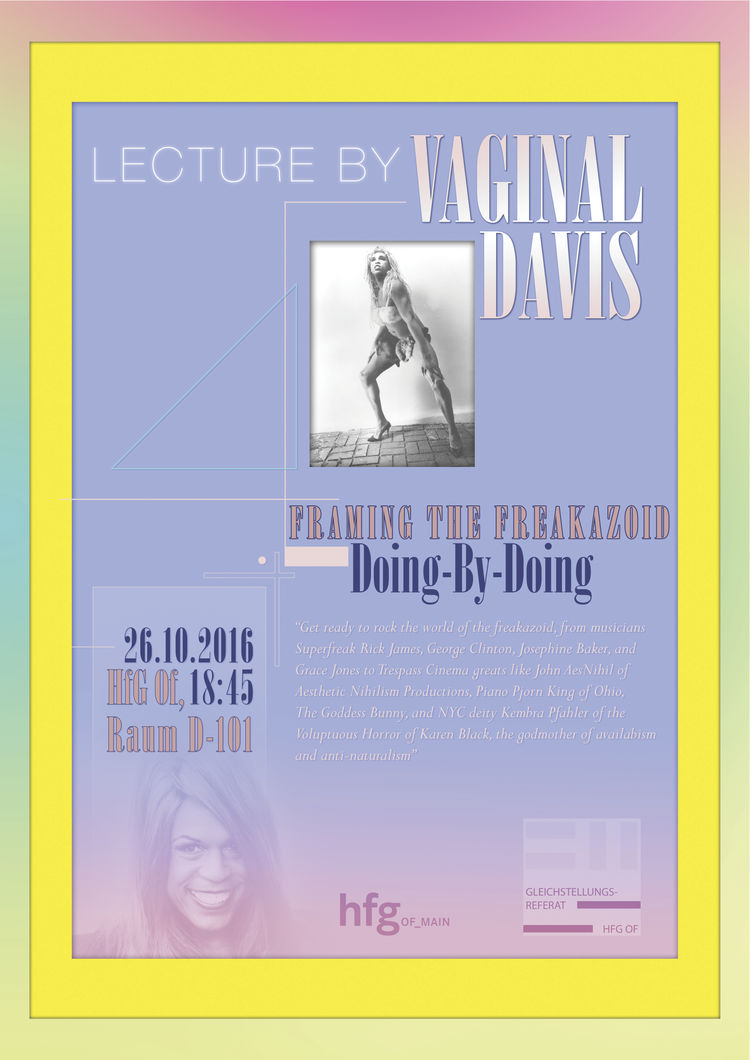 FRAMING THE FREAKAZOID: Doing-By-Doing (DBD)
Prepare yourself for a rigorous and intense all day akshunist bootcamp/salon style workshop. Yes, yes and more yes this intimate exploration with gender/queer icon Vaginal Davis of Berlin/Los Angeles.
Through various akshuns, film viewings, mini lecturinas, exercises and quirky discussions, the lure and lore of the freak will be harnessed for its outsider power and mined for rich territories of creativity. Get ready to rock the world of the freakazoid, from musicians Superfreak Rick James, George Clinton, Josephine Baker, and Grace Jones to Trespass Cinema greats like John AesNihil of Aesthetic Nihilism Productions, Piano Pjorn King of Ohio, The Goddess Bunny, and NYC deity Kembra Pfahler of the Voluptuous Horror of Karen Black, the godmother of availabism and anti-naturalism.
It's time you left pasty middleclassism behind and were properly turned out. Class will begin at 11am with an intro ritual and end at 6pm, so dress comfortably in yoga style togs. This is an endurance bout so be prepared to werk it!
No pre-requisites or performing experience required.
Vortrag
26. Oktober 2016, 18:45 Uhr
Raum 101
Workshop
27. Oktober 2016, 10–17 Uhr
Begrenzte Teilnehmer_innenzahl
Anmeldungen an: gleichstellung@hfg-asta.de
​
Eine Veranstaltung des Gleichstellungsreferats des AStA der HfG.