T +49 (0)69.800 59-237
F +49 (0)69.800 59-202
Main building, room 14
Consultation
Wednesday 10 am to 13 pm and by appointment via e-mail
Discipline
Subject/Area
Media
Faculty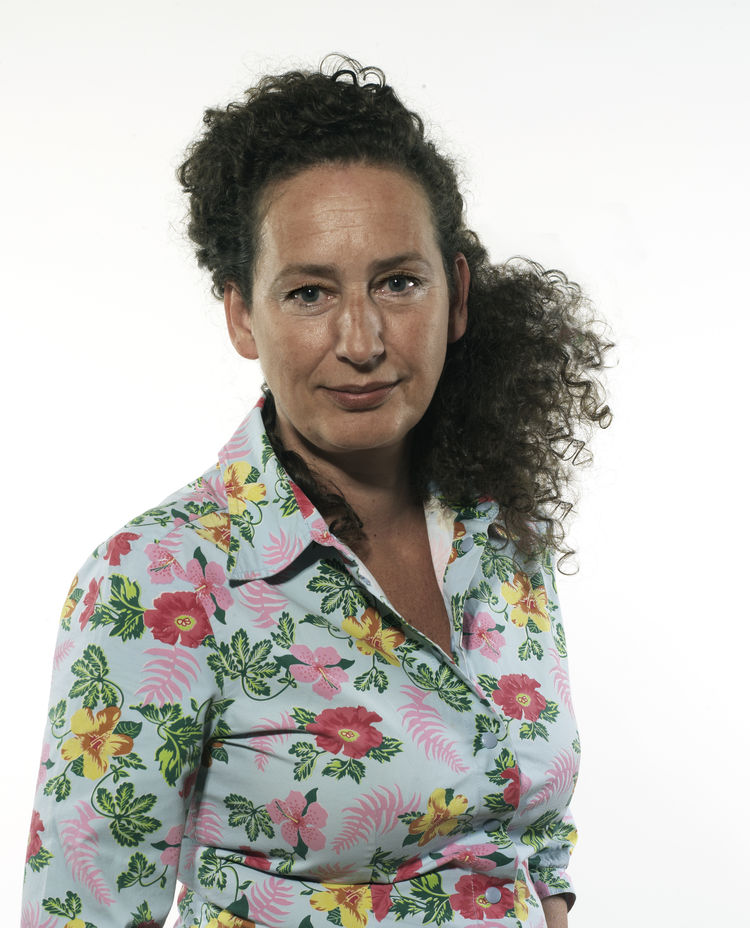 Rotraut Pape (born 1956 in Berlin) is a film maker, artist and university professor. She studied Fine Art at HFBK University of Fine Arts in Hamburg. She focussed on the mediums of film, video and computer early on, and was less interested in their technological possibilities and more in their artistic potential as a basis for addressing social, political and ethical questions. Performance and installation play a big role in her work, as in her videos and films, as actual performances or interactive experimental set-ups. She executed numerous experimental documentaries for arte, 3Sat and ZDF alongside her artistic practice. Screenings, exhibitions, publications and lectures in Germany and abroad. Workshops, lectureships, visiting professorships at international universities, Goethe Institutes, CCFs. Rotraut Pape was a Friederichs Foundation Endowed Professor at HfG Offenbach in 2001, then a visiting professor, and from 2004 onwards Professor for Film and Video. She has been Vice Dean of the School of Art (formerly Visual Communications department) since 2011.
Mein erstes Video machte ich 1977 mit einem offenen Spulen-Rekorder auf Japan Standard 1, dann arbeitete ich auf u-matic low und Highband, zwischendurch kurzfristig auf Video 2000 und Betamax, dann auf VHS und S-VHS, Video 8 und Hi 8, auf VHS C, auf Beta SP, DigiBeta, Mini DV und DVcam und manches in den Variationen Pal, Secam und NTSC.
Vom 6. bis 29. November 1998 zeigte der Kasseler Kunstverein in Kooperation mit dem Dokumentarfilm- und Videofest eine Einzelausstellung von Rotraut Pape unter dem Titel »Real Virtuality«. Zu sehen waren die Installationen »Der Garten«, »Die Wärter« und »Das Jüngste Gericht«. Ergänzend und verknüpfend präsentierte die Videosektion eine umfassende Werkschau der Künstlerin.
Virtual Reality – Real Virtuality
A portrait of film maker and media artist Rotraut Pape
Rotraut Pape – professor at Hochschule für Gestaltung (HfG) Offenbach am Main, Hessen State University of Art and Design since 2001 – is happy. Her university's film and video department has just been awarded a considerable sum: »finally a budget that will let us purchase urgently needed electronic editing desks and cameras.« Needless to say, digital media have long since found their way into the department. But the novice film makers still also acquire skills in working with traditional 16mm film. Even if the end product turns out to be a video, the student works demonstrate essential knowledge of materials by using digital video, computer animation, 12mm and Super-8 film equally. The objective is an interdisciplinary approach to the possibilities offered by various filmic media ranging from analogue and digital – a quality present in Rotraut Pape's work which has marked her artistic career and certainly contributed to her appointment at the HfG, a university committed to the interconnectedness of the arts in keeping with the tradition of the Bauhaus.
When the dyed-in-the-wool Berliner started out at the University of Fine Arts in Hamburg in 1975, she spent several months sitting in front of a white canvas before accepting that her interest in movement and change could only be satisfied with the moving image. Video was still in its infancy, recorders were unwieldy and clean cuts almost impossible to achieve. Pape started off using the medium as a real-time-recorder for minimalist spatial installations and began cutting her fingers sore on 16mm at the same time. For her short video »90° in Berlin« (1977) and the longer 16mm-film »90°« (1980), the entire furniture in her Berlin flat was nailed to the wall, then recorded with a tilted camera. Changing mirror arrangements allow for the entire flat to be covered without the camera itself being moved in the video »Lover Man« (1977)and the film »Souterrain« (1978). These early works question our perception; they turn established systems on their heads and stand for »reconstructions of thought processes«.
The break-down of order finds its excessive portrayal in »Pilots must know no fear« (1984), which was presented at the Berlin International Film Festival alongside other works of hers: here, a wall-mounted shelf, brimful and collapsing, and a book shelf being driven through the space and past the camera by car are fused with the deconstruction of linear filmic storytelling – the main character assumes various identities and the plot defies all narrative logic – but first and foremost, this film was the first step in an examination of the relationship between image and sound, as it takes four musical pieces by Holger Hiller as its starting point. For Pape, every artistic articulation – be it in film, installation, object or performance – is the result of an investigation, and shall be considered as constituting a process.
Her subversive mode of working corresponds with an early 1980s zeitgeist, a time during which »Punk was in the air and Baader/Meinhof still alive«. So as not to grow lonely in the cutting room and »bring back some risk into her life«, Rotraut Pape founded the performance group »M. Raskin Stichting Ens.« together with fellow students Andreas Coerper, Eschi Fiege, Oliver Hirschbiegel and Kai Schirmer, mixing »tangible social systems of order with provocative anarchy« and working on various focal topics under the title »Studies on Entertainment« until 1987. Secret cloak-and-dagger operations alternated with elaborate spectacles in museum environments (amongst these the »Biennale de Paris«, »The Kitchen, New York,« »steirischer herbst«, Graz, »documenta 8«, Kassel).
Material from performances resulted in the five-channel video sculpture »The Temple of Reason« (1986), which was exhibited in numerous art spaces. Based on the film »Tron«, Pape carried out a solo performance for the camera as »Rotron« (1982), in which she embodies a helium-voiced creature that exists in a program and wants to insert itself into the Pentagon memory. The piece was disseminated via the first international video magazine INFERMENTAL founded by Hungarian film maker Gabor Body, whose second, six-hour edition was produced by Pape and Hirschbiegel. Video was no longer merely used to document performances. When the group split, Rotraut Pape and Andreas Coerper continued working together under the name »Raskin«, developing complex video installations and video tapes.
The installation »WasWasWasWasWas« (WhatWhatWhatWhatWhat, 1990) at the Berlin Academy of Arts showed five heads in full format and engaged in a dramatic dialogue while perching on oversize wooden chairs arranged to form a circle. The video »Rauchnächte« (Smoking Nights, 1990) conjures up mental images in the amorphous shapes of exhaled cigarette smoke, fleeting phantasms that disintegrate like a mirage, not least bringing the immateriality of the electronic image itself home. In » You have no heart« (1991) and the installation »Heart House Ice« (1992) the gender conflict escalates into a verbal exchange of accusations and statements that extend into the image typographically, turning into »a wounding arrow or protective shield«. In the meantime, Rotraut Pape had moved to Lyon and was living and working with the group surrounding Gérard Couty and Mike Hentz ("Minus Delta T, Code Public, Van Gogh TV") in the culture-lab Frigo, an art and performance space that included a video studio and radio station. Their pirate TV station subversively intruded on media events, but the group also worked »respectably« for commercial television. In the early 1990s Pape started missing Berlin. Between November 1989 and 1990, she walked along the »falling wall« between Kreuzberg and the Reichstag four times with her video camera, synchronizing the four images in split-screen to form a two-hour video »The wall, the negative horizon« (1992), thereby documenting the aesthetics of disappearance of an historical moment. This has turned into a long-term project: to this day, she films the now almost invisible scar across the inner city of Berlin at irregular intervals in order to digitally rebuild the Berlin Wall in 2014, 25 years after its fall.
She takes on jobs as an author, camera woman or avid cutter from time to time in order to earn a living – something she also enjoys. She executes numerous episodes of »Lost in Music« (1992-96), a series for ZDF/arte/3sat on current trends in Pop music, in collaboration with the director and musician Christoph Dreher. Individual contributions bearing her very own and very varied hallmark are also produced, such as on the »Iconography of Heavy Metal« (1993), on »Sampling« (1995, with Diedrich Diederichsen) or the portrait »Long Weekend – XTC« in which a raver describes his breathtaking but also somewhat bleak weekend in-between parties, pills and chilling out.
She also creatively shapes the multi-facetted TV design of various Arte theme nights With County, such as »Streetfashion« (1996), »Clubland« (1999) or »Digital Spirit« (1998). She films »Land of 1000 Dances – a short history of club culture« (1999) with British Pop theorist Dick Hebdige, and in »Real Virtuality«, Bazon Brock speaks about the loss of the real while signs and images blow up in his face. In the end Brock, who has by now turned into a computer file, is simply deleted.
The relationship between human and nature, altered through gene technology, artificial intelligence and virtual reality, becomes the focus of Pape's own, non-commercial works made in the meantime. The video »Not just Water«, completed in 1995, sees an armada of dangerous-looking malformed foodstuffs drift past portraits of people eating, while their physiognomies become increasingly deformed. Pape embeds objects made from fish bones, audio cassettes, meat and bread in fruit and vegetables, before recording digital imagery of these in an MRI scanner which she then re-works on her computer.
The spatial installations »Fruit from the tree of knowledge«, »Fruit from the tree of eternal life«, «Real Virtuality: The Garden, the Guard, the Last Judgment« (all 1996-8) employs fruit arranged on plates and hooked up to monitors that show images of its dynamic inner life with cables. The scene is watched over by oversize projected human cross-sections that interactively react to viewers as though these were stepping into their insides (»Split Brain«, 2001). A strange paradise between medical examination room and live computer game, in which man, as a scanned, digitally available reality has long since lost his innocence.
Rotraut Pape begins to teach at the HFG with enormous commitment in 2001-2 in the context of the Friederichs endowed chair, instigating a lecture series and a publication on the archeology of electronic storage media (»Sixcon - Lost Media«) and making a deep impression both through the scope of her work and her extensive knowledge of her subject. First successes have started to ensue, alongside countless festival participations and prizes won in university contests: Pape's students won the Preis der deutschen Filmkritik and the Hessen Short Film Prize in 2004. Those who want to see some of Pape's own, rarely exhibited works can look forward to film and video evenings in the Rhine Main area. Her excellently crafted website www.werkleitz.de/pape is also worthy of note.
By Gunter Deller
GRIP - issue 32, March 2005
News
3 years ago
Film shoot in Shanghai
Supervised by Rotraut Pape and Claus Withopf, at Tongji University HfG students Laura Krestan, Matthias Lawetzky, Lena Reidt, Alexander Sahm, and Aldin Saki shot the first part of a film about the cooperation between the two institutions.