T +49 (0)69.800 59-237

Main building, room 14

T

Main building
Lehrbeauftragte
Cornelia Böhm
Real Virtualities
Media studies within Film/Video enable students to address various forms of artistic film in a practice-oriented manner including short films, experimental films, documentary films, audio/video art, expanded cinema and animated films. Accompanied by alternating theory instruction such as history of film or media sociology, in addition to the conceptual elements of film and video work such as screenplay or direction students learn the classic analog and digital techniques of film and video production such as camera work, lighting design, sound design, postproduction and the options of new, hybrid methods offered, say, in full-dome, 360-degree cinema, the 3D-sound area or new multi-channel, trans-media technologies. Students also learn to reflect on their own works, plan them professionally and present them.
HfG Offenbach is a founding member (2007) and seat of the Hessen Film and Media Academy (hFMA).
Doctoral candidates
Con­cepts of utopia in con­tem­po­rary art
Tutors: Prof. Rotraut Pape, Prof. Juliane Rebentisch
Cabinets of showing
Institutional Critique im Expanded Cinema – Expanded Cinema in der Institutional Critique
Tutors: Prof. Rotraut Pape, Prof. Juliane Rebentisch
When HfG Offenbach was founded, our medium had not even been invented yet. It was not until half a century later, on November 1, 1895, that Max Skladanowsky and his sons Emil and Eugen demonstrated the first film sequences in the world. Though the Lumière brothers actually had their film debut shortly afterwards in December, their "cinematograph" was better than the complicated German invention. The "Bioscop" alternately projected single pictures from two strips of film, 16 per second. To commemorate the beginnings of film, on this day exactly 111 years later, this photo A of the media of that time which extended our senses was taken in front of the machine that would soon replace all others and one day may make all others obsolete – the computer.
Today, everything comes together here. The classic audiovisual formats unite and are compatible with the contemporary ones. Conceptual and aesthetic characteristics merge with each other and generate new creative potential in interaction with the viewer's conscious and unconscious perception. In the range between non-fictional reality in documentary film and staged narrative dramaturgy in feature film, between structural abstraction in experimental film and coded symbolism in short film and art film, individualists capable of teamwork adopt the artistic position of author with a personalized visual handwriting. Interdisciplinary formats that defy all genres emerge. Formats arise which now make it possible to formulate audiovisual expressions that previously could not be formulated, but in overriding old techniques also have a retroactive effect. The critical reflection on social connotations and the subjective interpretation of objective realities stand side by side with the realization of virtual realities. This means we now have the possibility of allowing internal pictures, conceptions, thoughts, feelings – the virtual – to become real.
Poetry results when both the analog and digital filming means available to us today are implemented consciously, with carefully designed listening rooms and camera images and in a free spirit of montage not dictated by any trends.
Leg up principle
10 years of Filmfahrt (film trip): The Offenbach model for film instruction
HfG students taking the basic Filmfahrt course have the opportunity to realize thematic films in instalments within a year. Moreover, all course participants are actively and in a practically relevant manner involved in all stages of professional film production and key positions from the idea through to the premier.
The Boot camp for newcomers starts in the summer semester with the premier by the previous course students. While the latter are celebrated, the new directors get to know their future actors from the HfMDK, University of Music and Frankfurt University of Music and Performing Arts (Prof. Marion Tiedtke), and arrange a casting so they can tailor the stories evolving in the script seminar (Birgit Lehmann) directly to their characters. In the weekly lectures History of Film/Theory, Prof. Pape familiarizes students with the milestones of cinematic art's various types and genres. Claus Withopf provides an introduction to all practical areas of independent film production, supervises production planning and at the weekends drills students in camera work and lighting design until all scenarios can be realized. Simultaneously, Bernd Zimmermann teaches the basics of sound recording. Uli Cyran, HfMDK, sensitizes the budding filmmakers as regards production management and supervises first rehearsals with the actors in front of a camera.
In the summer, when there are no lectures, the film students can bring to bear what they have learned, planned and practised. Meeting in a group house in the region they are supported and advised by older students. Additional support comes from Teacher for Special Purposes, Claus Withopf, and camera woman Nina Werth. One episode is made a day, and every dramatizing author/director is also occasionally responsible for camera, sound, light recording etc. in their fellow students' films so they get to know all the positions, problems and fascinations filmmaking brings – up close.
Post-production begins in the winter semester. Not only do students deal intensively with the theoretical and practical aspects of creative montage, colour design and finishing of images, there is also a focus on »sound design/film music«. Supervised by Kai Schoormann students work with composers from the HfMDK (Prof. Gerhard Müller-Hornbach) to create concepts for tailor-made film music, which is subsequently expertly recorded.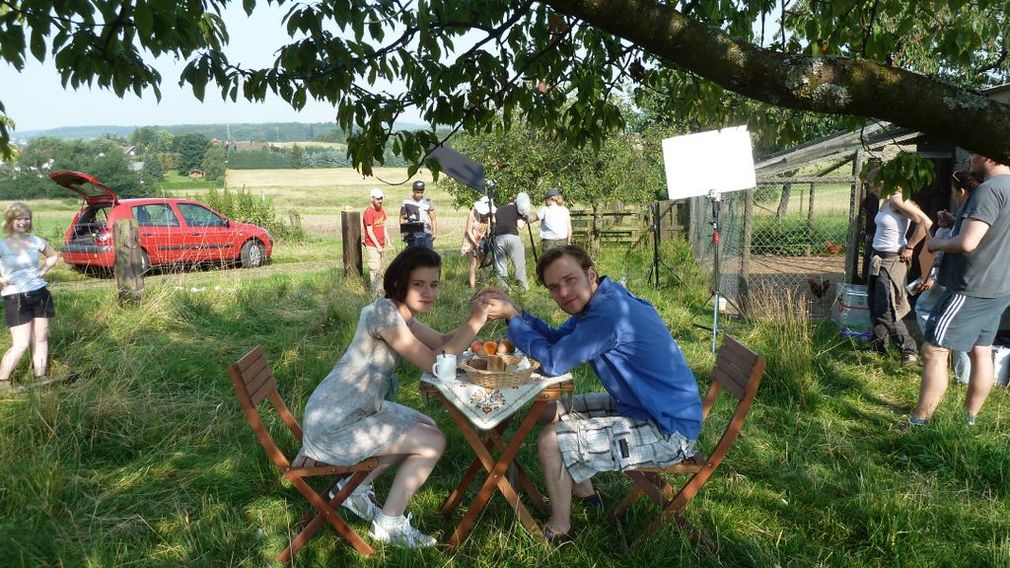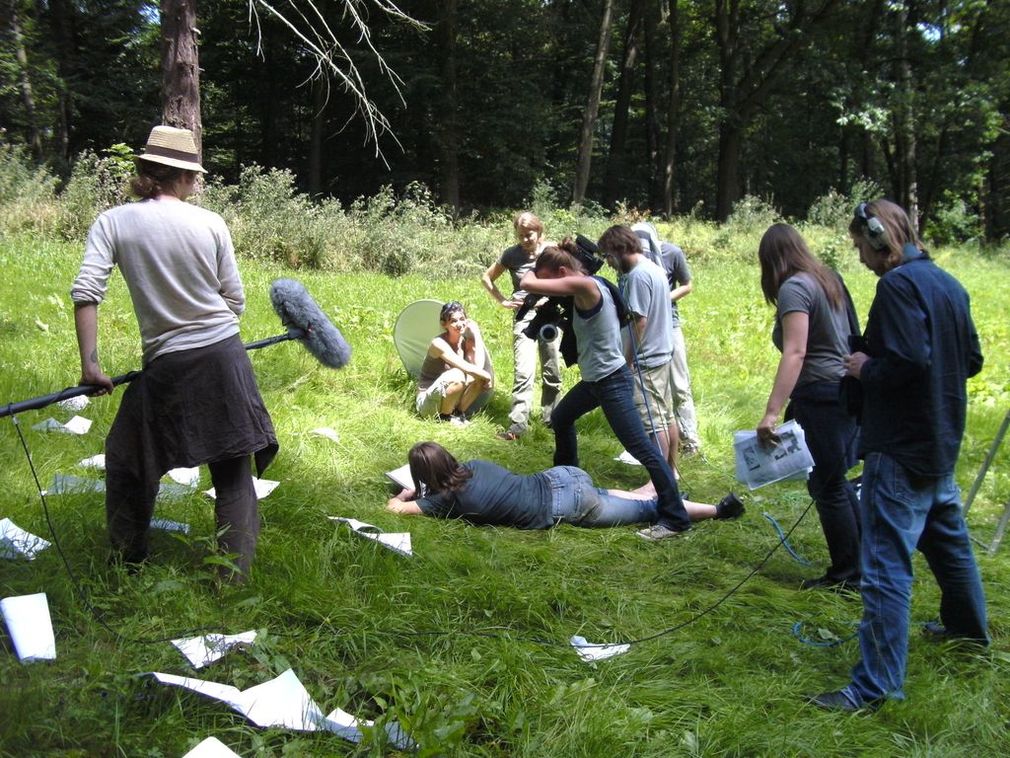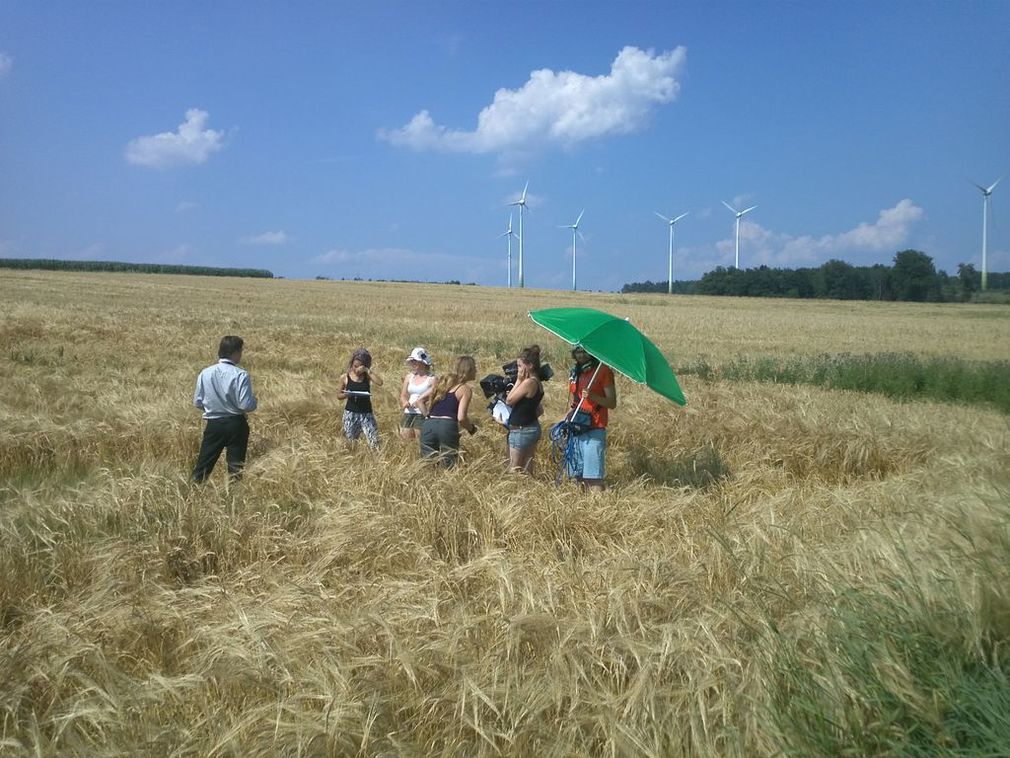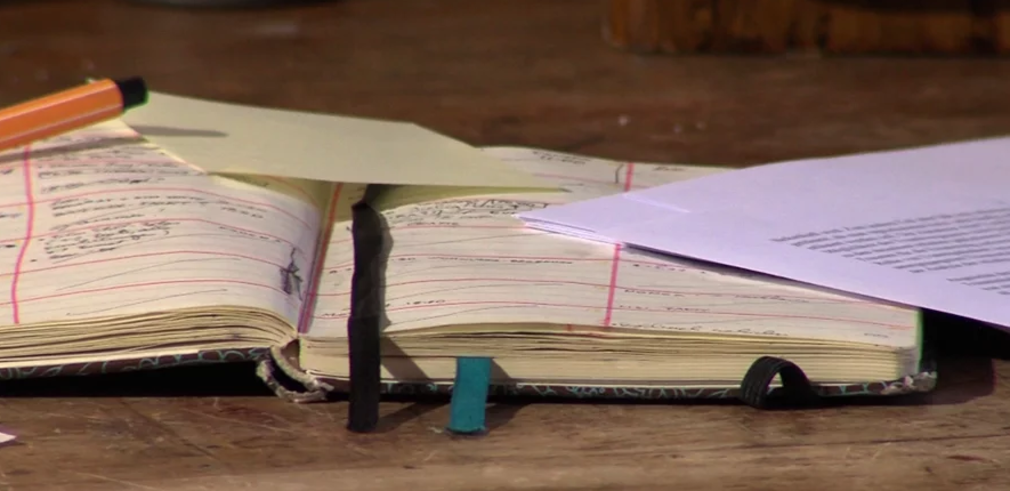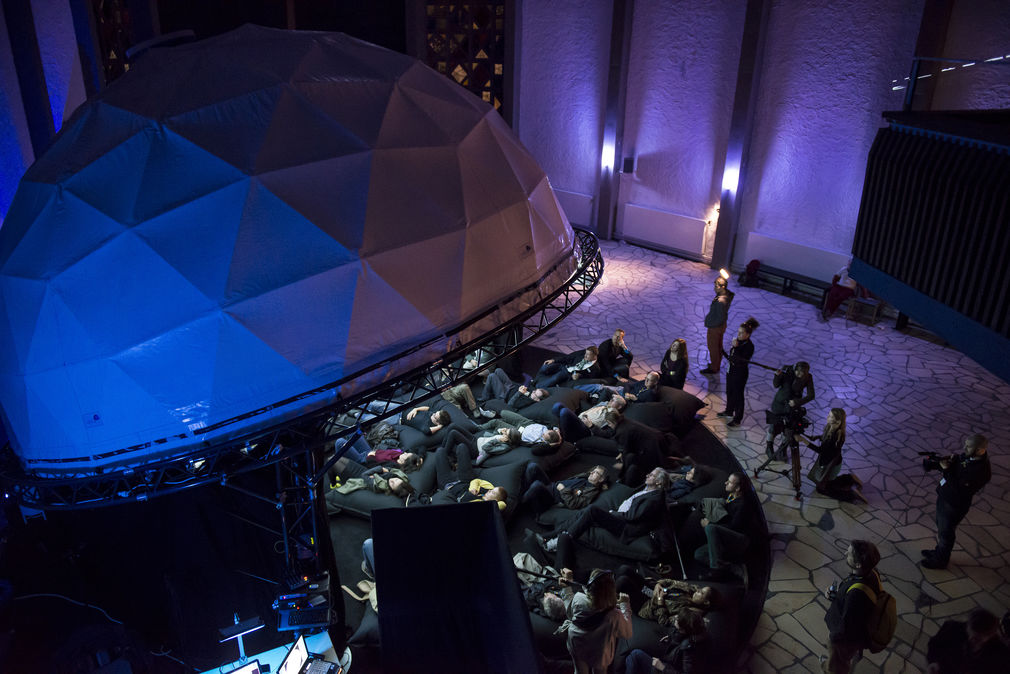 Surrounded by the screen
360 degree fulldome films – a new dimension of cinema
Since 2006 short films for 360 degree fulldome projection have been produced at HfG Offenbach. They premier every year at the FullDomeFestival in the Zeiss Planetarium, Jena. Every May FullDomeFestival presents the finished works as world premiers in different competition categories to an international audience of experts and enthusiasts. This audience which is constantly growing meets to see and discuss the season's innovative highlights and arrange new cooperations. First established jointly in 2007 by the universities in Weimar, Offenbach and Kiel the Festival in Jena's planetarium has become a centre for the fulldome film community from San Francisco via Moscow to Melbourne. Works from Hessen have their international premier and win prizes everywhere.
Fulldome takes the film experience to a new dimension in which the film leaves the conventional square screen format and extends out into the entire space. Projection in a 360-degree dome allows viewers to immerse themselves in the images. We no longer look at images,but find ourselves in their midst just as in real life. The fulldome experience is exemplary for and perhaps most impressively illustrates the focal topic of Immersion at the B3 Moving Image Biennial 2013 (DATUM and LINK), which was also devoted to groundbreaking forms of visualizing moving images and sounds. Previously known more in relation with science experience films for planetariums the new medium is being intensively researched by film and video artists worldwide. Aside from the best fulldome films made in Hessen, the B3 Biennale also presented for the first time in Frankfurt the international selection of high-calibre artistic 360 degree films from Canada, the United States, Australia, England, Spain and Germany and those curated by Prof. Rotraut Pape, Offenbach, Prof. Klaus Dufke, Potsdam and Ralph Heinsohn, Hamburg.
Project supervisor
Prof. Rotraut Pape
Script development and organization
(with the support of the hFMA)
Birgit Lehmann
Thanks go to
Micki Remann, Bauhaus Universität Weimar
Jürgen Hellwig, Planetarium Jena
Volkmar Schorcht, Carl Zeiss Jena
Ralph Heinsohn, Muthesius Kunsthochschule Kiel
Eduard Thomas, Mediendom FH Kiel
Prof. Klaus Dufke, FH Potsdam/ Urania Planetarium
Bernd Zimmermann, HfG Offenbach,
Prof. Bernd Kracke, HfG Offenbach
Anja Henningsmeyer, hFMA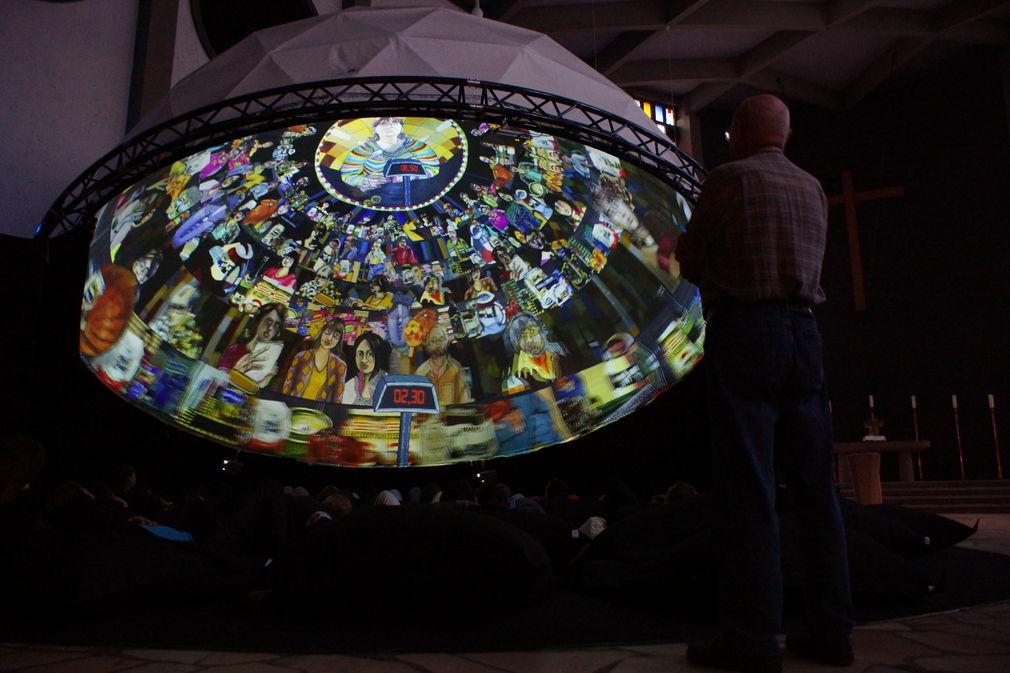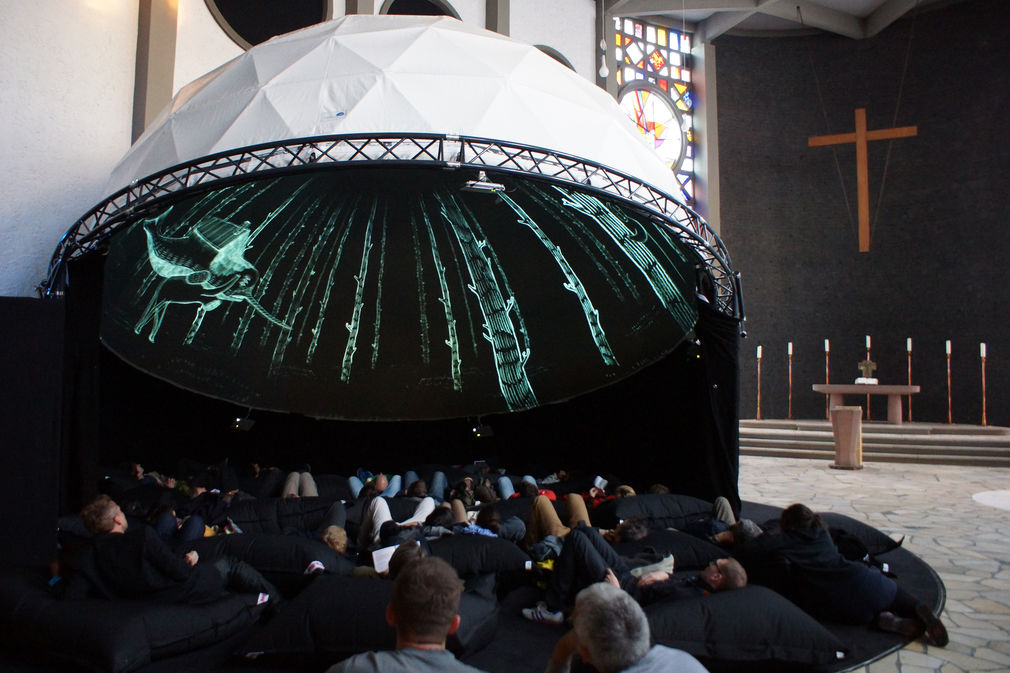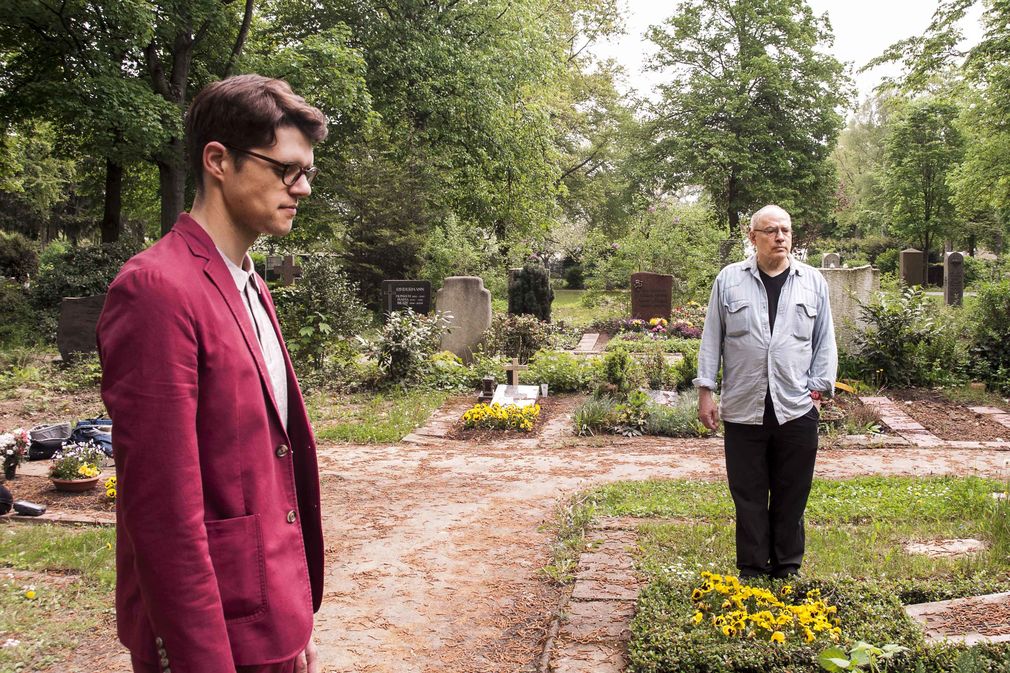 Roses Have Thorns
It started on 7 May 2013 in HfG Offenbach's main auditorium with the lecture "Rosen haben Dornen" / Roses Have Thorns. Rosa von Praunheim talked about "love, and life, sex, squirrels and cramps in the calves". The amusing lecture marked the first day of shooting for his new movie "Praunheim Memoires", which he filmed in the subsequent weeks with the assistance of HfG Offenbach students and staff.
His film essay about a time that marked the start of his wild life in the Frankfurt region links documentary situations – such as the visit to his old apartment in the suburb of Praunheim, talks with his class teacher and his editor from Hessischer Rundfunk (hr) and so on – with orchestrated recollections of his life in the late 1950s as a lonely young man, eccentric lyricist and wild painter, and especially of his studies at the University of Art and Design in Offenbach, where he "felt that there was a meaning to life for the first time."
HfG students not only worked behind the scenes (camera, sound, organization, photographs etc.), but also light-heartedly transposed von Praunheim's life story to the present day. The entire university as a 'habitat' plays a decisive role in this context, since then as now there are constellations that bring a certain dynamism into young artists' lives and act as ground-breakers and catalysts.
Set Design student David Gonter plays the young Rosa, while his boyfriend (Robert Schittko, Photography student) and his best friend Silvie (Maria Anisimova, Sculpture student) deliver the unbridled energy of his former fellow students with the performance musicians of HfG cult band "Baby of Control". Meanwhile, Rotraut Pape, Professor for Film/Video dances through time and on the grave of Rosa's adored mentor Nora Countess of Stolberg with both Rosas simultaneously.
On 25 March 2014, the film premiered during the Lichter Film Festival to a full house with a concert by the band Baby of Control.
Praunheim Memoires
(documentary film, Germany 2014), in the original German, 90 min. Direction, script and production: Rosa von Praunheim
Starring
David Gonter, Rotraut Pape, Robert Schittko, Maria Anisimowa
Script/direction/production
Rosa von Praunheim, assisted by Oliver Adam Kusio
Camera
Matthias Lawetzky, Nina Werth, Dennis Pauls
Sound
Yaschar Scheyda, Holger Pridemuth, Marco Russo, David Sarno, Oliver Sechting
Editing
Rosa von Praunheim
Animation
Maxim Vassiliev
Post production
Mike Shepard
Music
Baby of Control, Andreas Wolter
Head of production
Oliver Adam Kusio, Markus Tiarks
Production management
Martin Kruppe, Katrin Klöntrup (hr)
Editing
Esther Schapira (hr)
Produced by
Rosa von Praunheim
Film production in co-production with Strandfilm and Hessischer Rundfunk
Sponsored by: Hessische Filmförderung (Hessen Film Fund)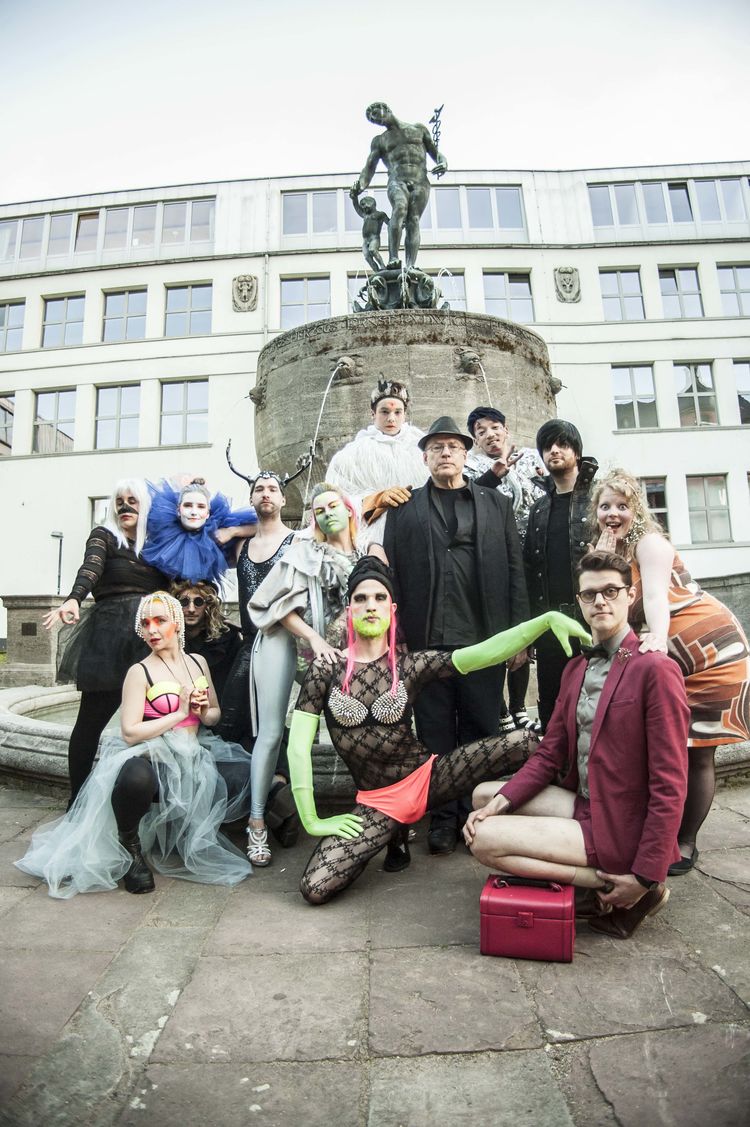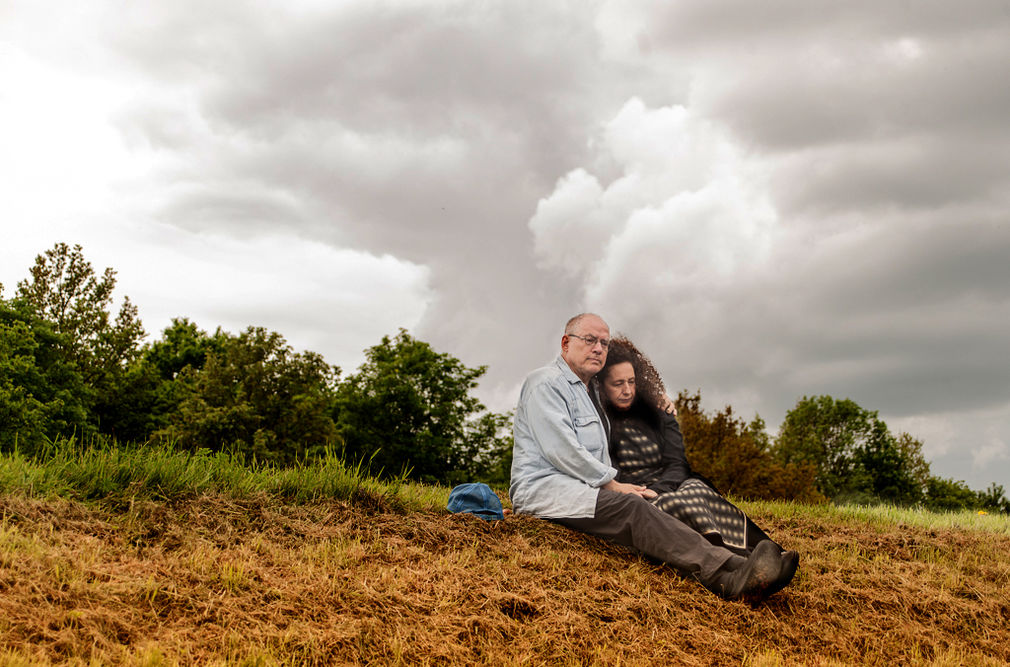 Film music
Music as a global language is a creative instrument often underestimated by film makers, whose work is dramatically altered when music is added. On the one hand there are inherent dangers in this symbiotic relationship if you are not familiar with the rules that have evolved in this context, yet when a true dialogue is achieved totally new dimensions become possible. Recurring thematic focuses during the semester "Jetzt gibt's was auf die Ohren" (Now here's something to listen to) address the complexities of handling sound in film and video – and in time-based works in general.
The first SOUNDTRACK DAY (16.5.2011) and the start of the hfMA cooperation "Musik für Stummfilme" (Music for silent film, 16.12.2011) between Hessen film makers and composers mark the beginning of the continuing collaboration in film music with the Frankfurt University of Music and Performing Arts Frankfurt (HfMDK).
In the HfG seminar supervised by Kai Schoormann, who works as a musician, editor and sound engineer, students explored the musical-dramatic requirements for fictional formats. Prof. Gerhard Müller-Hornbach's students from the HfMDK collaborated with HfG students to compose customized film music for the short films produced in the annual basics course/ film class excursion, for semester projects and for longer dissertation films.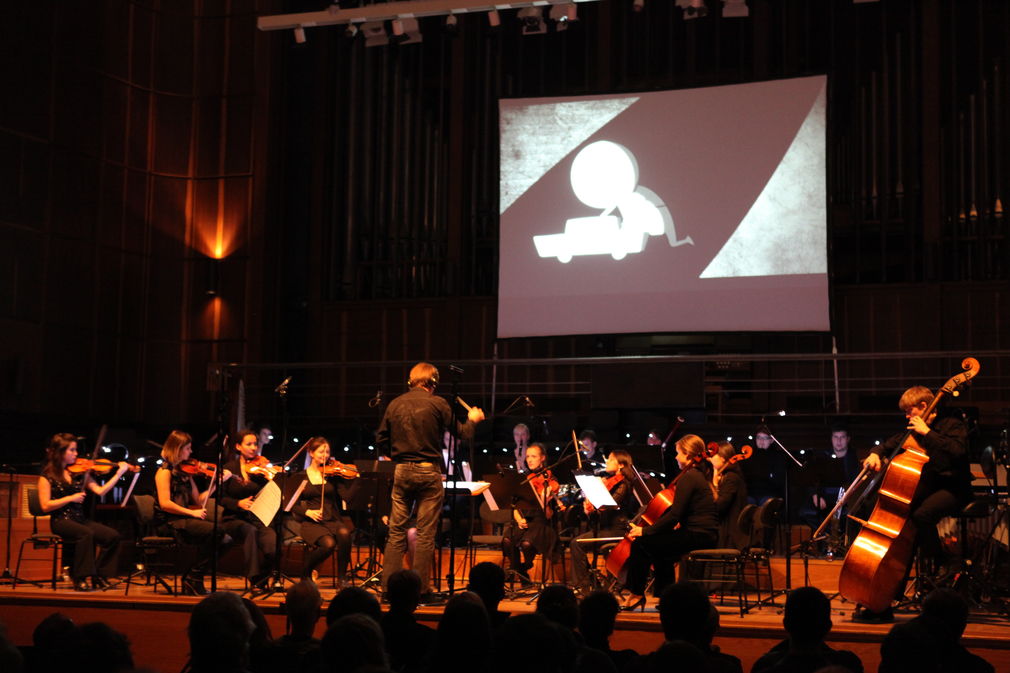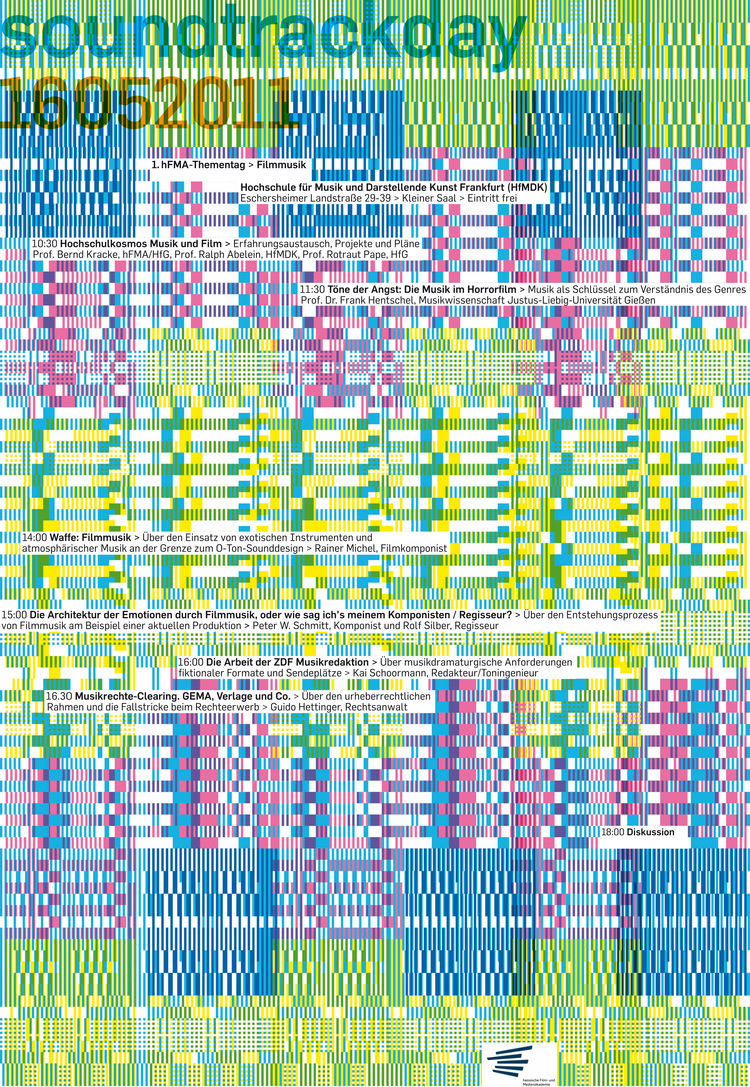 News
2 years ago
HfG student wins German Short Film Award
HfG student Brenda Lien was awarded the German Short Film Prize 2018 in the category »Experimental film with a running time of less than 30 minutes« for her film »Call of Comfort«.
5 years ago
Film shoot in Shanghai
Supervised by Rotraut Pape and Claus Withopf, at Tongji University HfG students Laura Krestan, Matthias Lawetzky, Lena Reidt, Alexander Sahm, and Aldin Saki shot the first part of a film about the cooperation between the two institutions.
6 years ago
HfG showing at the 65th Berlin International Film Festival
Once again HfG Offenbach will present at the 65th Berlin International Film Festival (February 5-15, 2015) with productions by and involving our students.
6 years ago
HfG films in the Flimmerzimmer
While the Berlinale International Film Festival celebrates glamorously HfG Offenbach presents itself with five films on February 12, 2015 from 8.15 p.m. in the Flimmerzimmer in Berlin. The filmmakers from HfG will be present and look forward to fascinating conversations.
6 years ago
HfG at the Fulldome UK 2014
HfG student Tim Seger wins two prizes at this year's fulldome festival Fulldome UK.
6 years ago
Hessen Film and Cinema prize 2014
HfG graduate David Sarno has received the Hessen University Film Award for his dissertation film 2014 "Richard & Gilbert" . The official ceremiony took place on 10 October, 2014 in Alte Oper Frankfurt .